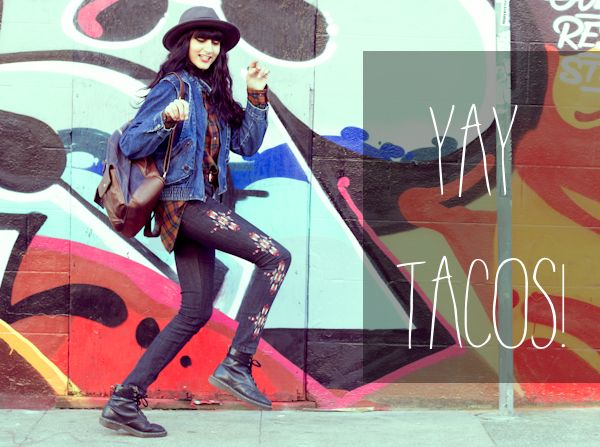 Vintage jacket and belt, Thrifted flannel, UO jeans and backpack, Doc Martens boots, hat borrowed from my dad
Today I'm off for Los Angeles, but I couldn't leave the Bay Area without a stop to San Francisco first. I met with friends to explore the Mission once more. One of my favorite thrift stores (Thrift Town) is just a block away from the 16th St BART station, and I think I sorta struck second-hand gold today! More on that to come. 
After thrifting, I had worked up an appetite. Instead of my usual Mexican dig, Adan and I wanted to try something new. A quick Google search led us nearby to 18th and Valencia to Tacolicious. With a name like that, it's no wonder they serve up some of the tastiest grub around. I ate the best Huevos Rancheros of my life in an open air patio with- you guessed it, more murals on the walls. 
"It is an odd thing, but every one who disappears is said to be seen at San Francisco. It must be a delightful city, and possess all the attractions of the next world." -Oscar Wilde
Big thank you to Adan Deloza for taking these photos!
This post is part of a series. To view the entire "On the Road" project, click here.