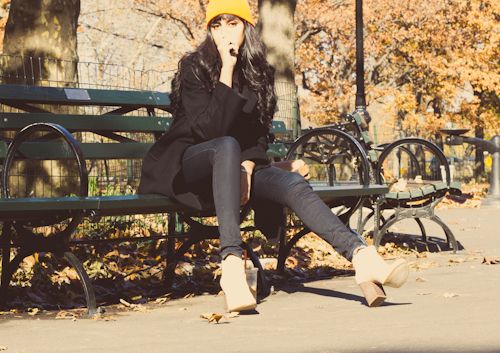 Uniqlo coat, Helmut Lang jeans, deadstock vintage blouse, Zara booties, Pendleton bag
I had some time to kill this morning before class, so I headed toCentral Parkto have my coffee and sangJoni Mitchellsongs really loudly to passersby. I really enjoy the park, it's a giant rectangular slab of nature right in the heart of the concrete jungle. I used to visit all the time when I lived on the Upper East Side, and would like to return to doing homework and having lunch there between classes.
While I was shooting this set of photos the button on my blouse popped! Scandalous… But that's what I get for thrifting a shirt from the children's section. Between the fringe and the print, it's totallyWesternin the best way possible. Did I mention it's deadstock, too? To keep with the Western theme (can you tell all I'm thinking about is my road trip? crossing my fingers), I added these radZarabooties andPendletonbag.
As I'm still hating my hair, I haven't really taken off thisbeaniesince I bought it. It seems to sort of work with everything in an unexpected way, so I have no complaints.