When it comes to winter if there is one thing I love, it is accessories. Hats, scarves, gloves, all the things that help to keep you just that little bit cozier. I am forever scouring clearance bins for these items, but one of the best places to find truly unique pieces are at thrift stores. I found these two sheepskin hats at a thrift store several years ago for only $3.00 each. Quirky? Yes, but I love them and no one else has them.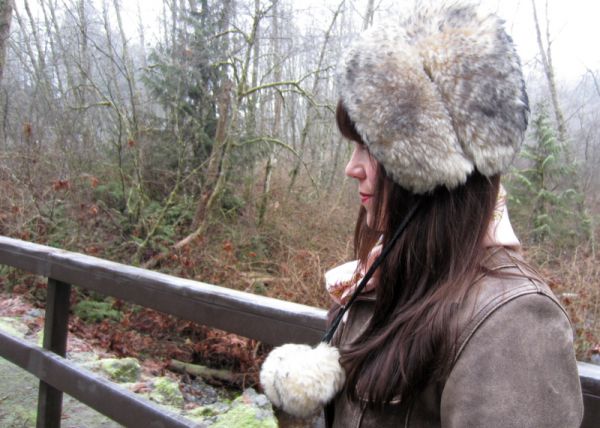 Don't they remind you of Dr Zhivago? Another great thrift store find was this scarf. And another hat can be seen here in this previous post.


One of the most interesting of thrift stores, is the Goodwill Outlet. If you have one of these in your area, I highly recommend checking it out. I went for the first time today and it was quite a sight and a very interesting study in social behavior. When you walk in, you will see row upon row of giant blue bins filled with stuff. I was only interested in accessories so I headed straight for that bin. Everyone gathers around the bin and digs through the mess hoping to discover a hidden treasure. It is important to check every square inch of the bin, because you never know what is hiding under that hideous handbag. During my search I noticed that all of a sudden everyone began to abandon their bins and line up along two lines of tape. Curious as to what was happening, I stopped to watch. A group of workers came out of the back room and began to wheel away bins while another group of workers began wheeling out new bins and lining them up between the two rows of people. Nobody moved. "What in the world is going on" I thought. Then one individual began to reach into a bin and the head clerk shouted "Please Wait" while still more bins where being wheeled out. All of a sudden the head clerk gave the all clear and everyone dove into the bins. It was an amazing sight. I was a little too overwhelmed by the whole place to even think about diving into those bins, but I did manage to find myself a treasure. A beautiful 100% silk scarf of Paris. I am also wearing it in the above photos with the hats. I was about to head out with my scarf when my son pounced on one of the books in the book bin. Because he had been such a trouper, I decided I would treat him to a book and headed to the check out only to discover that you are charged by the pound. My 100% silk scarf and my son's book cost me a total of $0.44. Unbelievable!



Next, we headed over to the Assistance League thrift store. Here I found another beautiful scarf, but this time it was of Germany's Black Forest. $3.00. Hmmm...do you think I have a thing for scarves of places?



I also have this one of London that a friend found in a thrift store for me. Thanks Jennifer C.!!