Ok dolls, the Victoria´s Secret Fashion Show 2012 countdown says, 13 more days to go! 
To ease the time, I present my VS make-up inspired look. 
Also, I found some really nice backstage photos, and honestly, though the angels clearly have to wear tons of face and body make-up, they never look completely over-done. I think, that is the true secret: just make it easy-sexy-glam. Whatever you feel comfortable with. 
To fit the bronzed look, I put on my beloved and so far favorite self tanner from St. Tropez and most importantly, tons of shimmer and bronzing glow! 
Enjoy and happy Thanksgiving!


                       My favorite VS parfum:
                        "Bombshell Seduction"




                                                                                                                                                           
Give your skin a nice treatment to get in the mood: Peeling, face-mask and self-tanner can do wonders!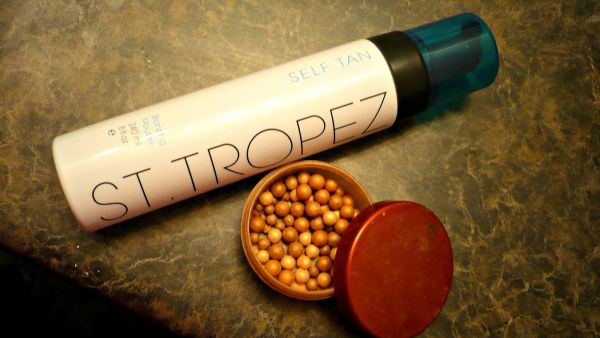 VS Make-up is all about that bronzy glowy skin, so work those shimmer pearls or whatever lotion you got.
As for the actual make-up: VS has different looks for different girls, however for the most part they stick to natural shades - nothing too dramatic. Everthing is always very well blended and there are no harsh edges. Contour your face with a bronzer and add some subtle rose blush, plus additional highlighter!





Products I used: 
Smashbox PhotoFinish Primer
MAC Matchmaster Foundation  -4.0 mixed with Laura Mercier Tinted Moisturizer Illuminating- Natural Beige
Benefit Erase Paste - No. 2
Make Up For Ever Full Cover Concealer - 1
MAC Studio Finish Concealer - NC 30
Laura Mercier Secret Brightening Powder
NARS Bronzer - Laguna
Victoria´s Secret Radiant Blush - Fresh Love
MAC Mineralize Skinfinish - Soft and Gentle
The Body Shop - Brush on Bronze (pictured above)
MAC Paintpot - Painterly
Urban Decay Naked 2 Eye Shadow Palette - Bootycall, YDK
Make Up For Ever Aqua Eyes Eye Liner - OL Black
Max Factor Kohl Kajal Eye Liner - White
Make Up For Ever Smoky Lash Mascara - Extra Black
L´oreal Telescopic Mascara - Black
Victoria´s Secret Big Smooch Lip Plumping Duo - Pink ( full review
here
)
Urban Decay Setting Spray - All Nighter





I haven´t tried too many of their products yet, but those I did use, I like!






Just simple and gorgeous! Blend out the edges and stick to natural colors with shimmer that suits your skin tone.