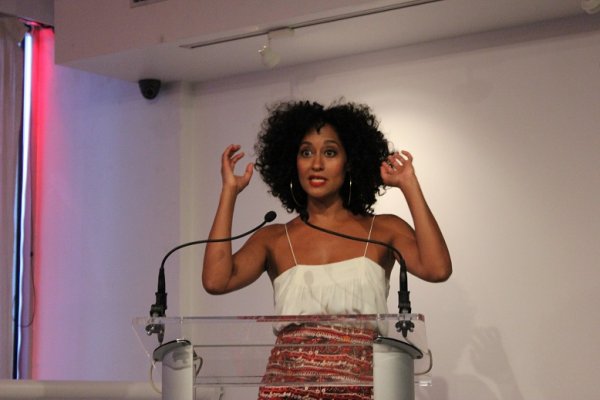 Sometimes being a blogger/freelance writer is hard. Like when you get invited to press events where someone whose style you've been stalking admiring for more than a decade is the special guest and you have to keep your professional composure.
Because it took a heck of a lot of restraint for me to not walk up to Tracee Ellis Ross yesterday afternoon at a press preview and call her Joan and try to bury my face in her luscious curls.
It was great to see that Tracee is every ounce of gorgeous in person as she appears on TV and magazine editorials. Her skin was luminated and punctuated with a bold matte red lip, she had on the cutest outfit (anAltazura skirt and YSL Tribtoo pumps), and her hair…OMG her hair! It's just as glorious in person as it appears in the thousands of pics we've saved of her curly mane over the years. When I learned that she was putting her stamp of approval on Optimum Salon Haircare's New 6-in-1 Miracle Oil, I knew it would be something seriously awesome. I didn't even need to know what was in it. I NEEDED IT.
But thankfully we learned that the product is a must-try (especially at its MSRP of $8.99) with its blend of six oils: Argan, coconut, sunflower, apricot, jojoba, and avocado and its six uses: hot oil treatment, daily leave-in conditioner, moisturizing scalp oil, conditions locs, braids, and extensions; all day frizz control, and dry skin hydrator. Typically after a press event I'm so tired from my day (the last few days have had me running around Manhattan pulling items for a special project so I've been exceptionally busy) and any products I receive are usually put to the "I'll get to them over the weekend" pile, but as soon as I got home after shampooing and conditioning, I massaged 6-in-1 Miracle through Chaka (what I affectionately call my current hair moment—see pics on my Instagram) while still wet and then blow dried. My curls had a gorgeous natural sheen that wasn't oily or excessively shiny plus I had some more definition. I'm digging it ;)
6-in-1 was also used on two models who both had natural hair: one had hers blown out and flat-ironed, the other had twists. The product works on both relaxed and natural hair.
You can grab the Optimum 6-in-1 Miracle Oil line at drugstores and mass retailers nationwide.