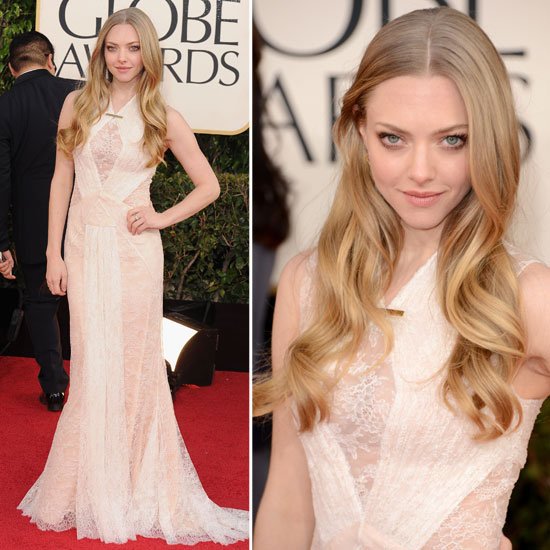 Image via fabsugar.com

Trend I loved: Light/Nude/Sheer dresses account for half of my best dressed list and an honourable mention.
Trend I'm Tired of: The Angelina's leg effect (with the exception of Eva Longoria's fabulous number). Let's face it, the leg is something only Angie can master… Many of the ladies simply looked silly and it's not something I believe fits a classy bill.
Without further ado, my top ten of the night go to:
1) Amanda Seyfried in Givenchy Haute Couture - While the rest of her look was kept simple, this dress leaves me speechless. Amanda looks natural and stunning.
2) Kate Hudson in Alexander McQueen - Kate was the poster girl for the waif-like look that dominated last night's awards. While her hair looks like she rolled out of bed, her figure is unbeatable in this McQueen number and I am loving the gold accents.
3) Jessica Alba in Oscar de la Renta - A fantastic colour choice for Jessica accompanied by beautiful jewelry.
4) Jennifer Lopez in Zuhair Murad - Always flaunting extravagant numbers, JLo looked phenomenal, working the sheer look better than any other.
5) Hayden Panettiere in Roberto Cavalli - Hayden looked well put together in this perfect gown while her pink clutch added a pop of colour.
Five and Six were extremely close for me. The tie breaker was Hayden's healthy glow and Amy's terrible choice for hair.
6) Amy Adams in Marchesa - Though Amy hasn't received much recognition, her Marchesa gown is absolutely lovely.
7) Eva Longoria in Emilio Pucci - While Eva's legs seem a bit petite to be pulling off this look, it's impossible to deny how amazing this dress really is. More points had she kept her leg in.
8) Ariel Winter in Valentino - Yes, this dress is far more cute than elegant, but it is age appropriate. I absolutely love everything about the latest from Valentino and this piece is no exception.
9) Lucy Liu in Carolina Herrera - I love this gown. It is so pretty and so different from what anyone else was wearing. Points to Lucy for taking a risk… It absolutely paid off.
10) Kerry Washington in Miu Miu - Kerry looked absolutely amazing. This dress was a fantastic choice for her. Why has she barely made the cut? It's the odd effect of her dress's bottom half. While I am a huge fan of the sheer look, I don't love the way this piece makes it look as if she is revealing her slip. Had the opaque underlay run the full length of the gown, Kerry's look absolutely would have made my top three.
Honourable Mention goes to Helen Hunt in a fantastic Dolce & Gabbana piece.