TAXIDERMY & HAIR TREATMENTS: PARLOUR & JUKE
Nestled in a little brick complex next to
Mercy Lounge
is
Parlour & Juke
, a delightful stray from the salon 'norm'; filled with eye-catching oddities and a rather impressive collection of taxidermy. You won't find pink sparkly things here. Orrrr abrasively baby doll-esque decorations - making P&J the perfect place for girls AND boys.
You can tell that she's spent plenty of time and consideration creating a unique and inviting environment that almost makes you forget you're in a salon and not in some rustic museum off a beaten path somewhere in Louisiana.
(Bon Ton, maybe??)

DeVaney is quite the antiquary, collecting anything with a bit of southern charm or anything that might raise an eyebrow. Taxidermy, vintage anatomy posters, horns and skulls - even the furniture is pleasantly dated and adds even more character and charm. The exposed white painted brick walls offer a perfect canvas for all of DeVaney's treasures and curiosities and compliment the wide windows that pour in the perfect amount of natural light.

Plus I mean, really, where else can you find weaves hanging on wall mounted antlers?
I was immediately greeted by the sweet salon coordinator who offered me a drink selection, and as hot as it was that Thursday I had to go for the iced coffee. She brought it out garnished with a sprig of mint and in ultimate southern style - a Ball Jar!

I couldn't stop looking around at all of the delights that the salon had to offer. The lack of frills and lace that most salons drown in definitely made
P&J
stand apart and I can say with absolute certainty that they are setting the standard for trendy salons.
P&J offers amazing services to both genders - close shaves and beard shaping for busy gentlemen who would prefer to have someone else get that 'stache date night worthy and for sassy ladies - cuts, colors, waxing and blow dry services. (I love me a good blow out) Everything you might need for a night out, special occasion, or just because.<?XML:NAMESPACE PREFIX = O />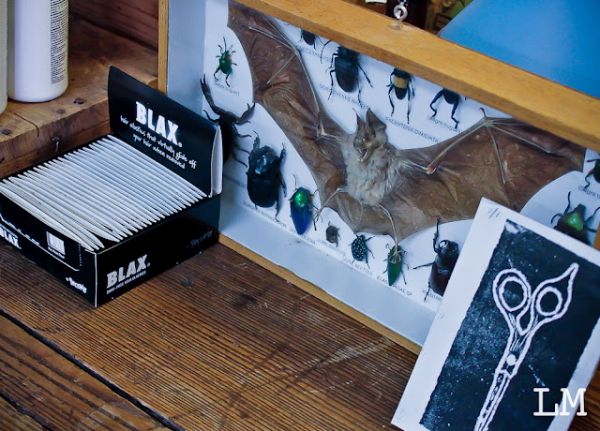 Owner, Cali DeVaney