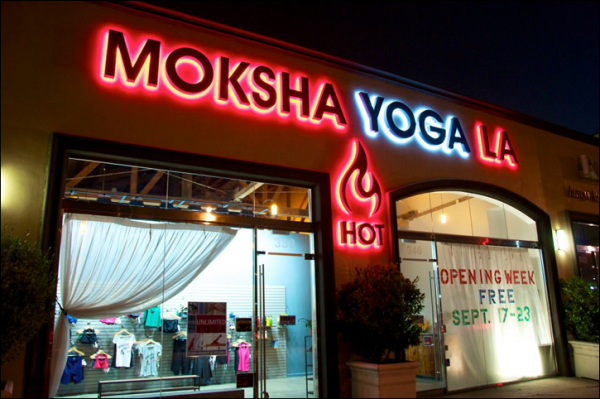 As I've mentioned on here before, I recently got into yoga. I wanted to do something active, but not too intense. I don't want to build muscle or lose weight; the goal is just to add some definition and maintain good health. Yoga seemed to fit the bill perfectly. And it's been great!
Last weekend, I stepped it up a notch by trying hot yoga for the first time. I'd heard about hot yoga for some time, but just never thought to give it a try until Moksha Yoga contacted me about their 30 Day Challenge. More on the challenge when it starts; I wanted to introduce to you the idea of hot yoga. Like I said, I went for the first time last weekend. I took the Yang Yin class with Emily, who walked us through a series of challenging balance poses, followed by a deep stretch session that got to my core (read: connective tissue!). I sweat like I've never sweat before and it was amazing! I hurt for two days after... in a good way!
I asked Emily about the benefits of hot yoga over traditional yoga and her answer was straightforward, so I bought it. For one, sweating so much helps your body get rid of toxins in the skin (where they tend to set up camp). Another benefit is being able to push your body just a little further than you would under normal (cool) conditions because your muscles are more pliable in the heat (makes total sense, right?!). I gotta tell you, I was skeptical at first, thinking it's just another trendy LA thing to do. However, my muscles told another story... I can't wait to do the 30 Day Challenge! It starts March 15 and is aimed at raising money for Little Kids Rock, a charity that focuses on restoring music education in public schools. I'll post about it in more detail in the days to come, so keep an eye out if you're at all interested. I'd love to garner some support from you guys!