When I think of spring, visions of pastel and denim dance through my head. Considering that it's still a bit chilly outside (um, hello Nemo), chambray is the ideal fabric to start transitioning your wardrobe from winter to spring.Chambray is soft, warm, comfortable, and casual chic… I love the effortless laid back vibe that it gives off.Oh hayyy, let's get down with chambray.
Blue Jean Baby: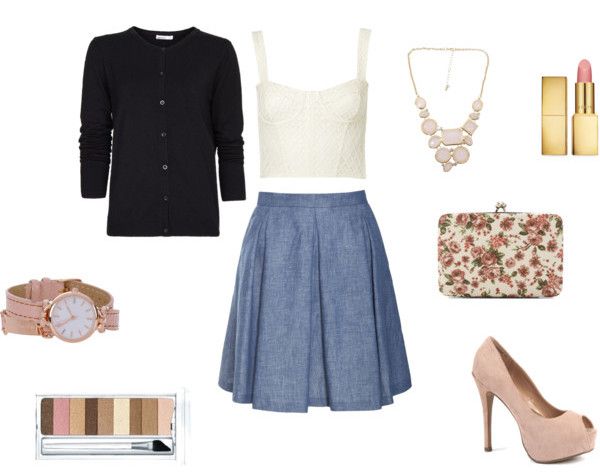 J'adore a denim skirt… as long as it's flouncy. A straight denim miniskirt feels wayyy too dated for me. White feels extraordinarily fresh against denim, and itgives you the ability to werq with different colors.
Mango, Essential Cardigan$36 – A longer navy cardigan is a closet staple. You can rock a navy cardi throughout the entire year…You can werq it during spring with a chambray skirt, during a chillysummer dayover a sundress, during fall belted with a tee-shirt dress and boots, and during winter with all ofyour skinnies. You can never go wrong with navy.
Topshop, Lace Corset$15 – I normally don't dig a corset top, but lately I've been drawn to anything lacy. The straps on this top help make it wearable. If you're going to weara crop top, you betta make sure that your skirt comes all the way up to your waist… à laNaya Rivera
New Look, Chambray Skater Skirt$32 – The shape of this skirt is flattering on all body types. It cinchesat the waist, yet flares out enough to cover your hot crossed buns… and it matches with everything.
New Look, Nude Peep Toe Platforms$39 – A nudie heel elongates your legs like whoa.
Modcloth, Wallet$20 – This pattern is gone with the wind fabulous. I am living for the vintage-y floral.
River Island, Pink Wrap Watch$40 – I get soo down with ballet pink… especiallyduringspring. The wrap strap of this watch adds interest and edge to an otherwise dainty hue.
Target, Gold Bib Necklace$17 – I'm pretty obsessed with bib necklaces. When you wear one, you don't need to rely on anything else… they steal the show. Bib necklaces instantly dress your ensemble up.
You Pass… With Flying Colors:
Floral patterns make denim pretty. Chambray sundresses are perfect for weekends, running errands, or any other daytime event that you could possibly think of… even watching T.V.
Delias, Floral Chambray Dress$25 – Once again, this cut is universally flattering. It looks amaze by itself, or paired with a sweater…. with heels, flats, or wedges. This dresscamouflages the midsection, while enhancing your lovely lady lumps.
Target, Cardigan$25 – Longer cardi's rock. They can make practically any outfitappropriate in a fashionable way. Cardigans also look good with a belt or without one… and a belt can give a completely different look (it's like twooutfits for the price of one). Put a twist on the classic cardiby choosing a bold color.
Shoe Republic, Ethel Green$50 – Neon pumps are a must. They bring a bit of polish to this look, and they can be shockingly versatile. You can add style to a suit with neon pumps, dress up your skinnies, even your go-to leggings. I mean a white tunic + black leggings + bright pumps = eleganza.
Mango, Faux Leather Shopper$36 – Totes jeanius. You can fit anything in there, and tan goes well with any color… even black. Holler at a black and tan.
Pieces, Caniella Colour$45 – Top everything off with a whole lotta neck action.
Denim Denim Denim:
This time of year the weather is unpredictable, and a cropped jacket can be your savior. When its chilly in the morningbut you're sweating your ass off after werq (or school), picking out an outfit can be tough. You'll neverregret having alilcoat with you.
River Island, V-neck Peplum$28 – Peplums are adorbs. A peplum makes any bottom look polished… while hiding your tum (which is superb if you haven't been keeping up with the gym). The peplum is here to stay, so spring forward with a white one.
Delias, Heart Chambray Jacket$40 – I love small patterns (like polka dots). Little hearts make a plain chambray jacket interesting. Not to mention, cropped jackets look sickening with peplums.
Lee, Skinny Tube Jeans$34 – Switch up your daily jean routine, slip into a pair of colored denim. Light brown feels very right now, and it blends well with a wide array of colors.
Envy, High Heel Platform$47 – When I werq pantalones, I like to rock sky-high heels. They make you taller and your donkey booty hotter. Everybody looks better in heels.
Pieces, Pardis Handbag$46 – Structured handbags serve up sophistication. This type of shape in a bold color is trésstylish.
Euro Style, Leaf Gold Necklace$9.16 – Tarnished metal is fierce hunty.
Oh Girl, You Got Them Good Jeans:
A plain chambray shirt is anything but boring. Dress it up with lace, color, and a red lip…. 1950′s realness, circa 2013.
Aeropostale, Woven Shirt$23 – Everyone should have a chambray button up in their closet, especially with the denim on denim trend on the rise. Chambray looks stunning with white skinnies, colored denim, pencil skirts, lace… There's really nothing that it doesn't go with.
Tillys, Lace Tier Shorts$40 – I just can't get enough of lace. Lace looks magnifique when paired with chambray… even if you flip it and reverse it (chambray skinnies and a lacetop) it would still be a perfect match.
BooHoo, Mia Wedge$50 – Wedges are the shizz. Sometimes heels suck, and they can be hard to walk in… but not wedges. Nude wedges also elongate your legs, just like heels… werq!
Hansel From Basel, Polka Dot Bag$32 – I was into polka dots last Mood Board Monday, and I'm still feelin' them today. This tote is casual gorgeousness.
Cara, Lacy Lady Necklace$34 – When you add the midas touch (a pop of gold) to anything, the outcome is typically a big thumbs up. Statement necklaces make you appear as though you put effort into your look, even if you got dressed straight out of the hamper.
Modcloth, Headband$14 – I told you, I'm still into dots… and this styleheadband. I like the way it looks with a messy updo or loose waves, super cute. It also adds life to a bland color palette.
Forever In Blue Jeans:
Show everyone how to werq jeans on casual Friday… In a chambray dress.
Delias, Dot Chambray Dress$30 – Easy, breezy, and put together… What the frock! This dress is marv, the polka dots are right on trend, the silhouette is classic, and the fabric is fun + light. Everyone should own a dress like this.
SheInside, White Boyfriend Blazer$47 – I've been into white blazers since last season, and thy're still pretty amazing. They're crisp as frock… so fresh and so clean clean.
Charlotte Russe, Sueded Platform Pump$33 – Charlotte Russe has my fave pumps. Usually, they're comfortable, easy to walk in, and affordable. Yellow is a fab spring shade, it brings warmth to any outfit.
ASOS, Punch-Out Satchel$29 – If a structured bag and a crossbody bag had a lovechild this would be it, and she's really pretty. This bag is structured enough to werq in a professional environment, yet the texture also allows it to be worn with something a bit more laid back too. You gotta love a little brown bag (and I'm not talking the kind that a forty comes in).
Pim + Larkin, Stud Earrings$16 – Sunny studs brighten up your skin tone, enough said.
BaubleBar, Twist Cuff$28 – Yellow's a happy color, so sneak a peek at it all day long… A yellow bangle is sure to give you a mood boost throughout the day.
Remember, jeanius is ten percent inspiration and ninety percent perspiration.
Put A Frock In It*