A look at one woman's fashion choices from years gone by, refreshed with up-to-the-minute accessories and some quirky reflections on life, home and the change of seasons.
Sunday, January 8, 2012
Many of you know that I am a proud "mom" to two gray kitties, a gigantic 18-pounder named Underfoot, and a stealthy little lady named Lightfoot (Elfie for short). I have been perfectly happy having a two-kitty household, but recently some friends suggested that I consider opening my home to a black kitten named Hope who was set afire and severely burned last year by a juvenile delinquent in Baltimore City. Little Hope has been in foster care during her longrehabilitation, and now that her convalescence is nearing completion, the foster "parents" are looking for someone to adopt her permanently.
In an effort to evaluate whether my household and its twofour-footed occupants would provideanenvironment conducive to Hope's continued well-being, I invited my friendsto my home in Baltimore County Saturday night for dinner. My desire was to createan evening with a warm and cozy vibe, and what better way to promote warmth and coziness on a chill winter's eve than with a fondue dinner?
It's a Swiss thing, don't you know?I wanted to recreate the festive fondue parties of the 1970s in full vintage fashion (pun intended). So I put on a three-course, all fondue meal: Swiss fondue, a mixture of Gruyere and Emmantaler cheeses with white wine, minced garlic and Kirschwasser liqueur into which aromatic chunks of crusty bread are dipped, followed by the main course: Fondue Bourgnonne, raw chunks of filet mignon cooked in a pot of oil heated to 425 degrees Fahrenheit and then dipped in a choice of exquisite homemade sauces ranging from garlic-paprika aoli to horseradish coulis, parsley-walnut pesto, onion-mustard sauce and bleu-cheese creme. And, finally, chocolate fondue for dessert: a pot of semi-sweet chocolate melted with rich cream and Grand Marnier into which are dipped tender morsels of ripe cantaloupe, pineapple, banana, kumquat, blackberries and mandarin oranges and then rolled, if desired, in individual bowls of crushed nuts set at each person's plate.

The cheese fondue course
I have special fondue plates with multiple wells for the sauces, plus several fondue pots and dozens of special forks, for there are rules, you know! Metal fondue forks can only be used with the cheese and chocolate fondues, wooden skewers must be used with the hot oil lest my guests burn their mouths. Cheese and chocolate fondues must be served in ceramic pots, but the oil can only be heated and served in a metal pot because the temperature is so high. I don't get to make this dinner too often, as it is expensive and time consuming to prepare. But thiswas a labor of love, as it had been several years since I'd last served my full three-course fondue extravaganza.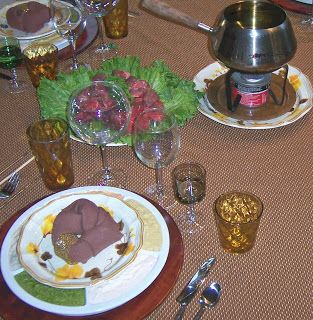 The beef fondue course
Once the cheese was grated, the five different sauces were made, the meat was arrangedon a plate of leafy lettuce, the fruit was cut and the table was set, I set about preparing myself for the evening: simple black cotton leggings by
Cherokee
for Target, topped with a red and orange Asian printasymmetrical tunic from Chico's and vintage black leather boots by
Pleaser
that I've owned for decades. For jewelry, I chose a carved cinnabar pendant on a black and silver cord that was a gift to me from my dear friend Judy in Dallas, paired with chandelier earrings with red and orange crystals and my favorite hair accessory, a Dea Dread custom made for me by Thea Asoto of Baltimore (
http://deadreads.etsy.com/
).

The chocolate fondue course
Upon their arrival, I greeted my guests with warm brie and a sliced baguette, as well as broiled toast points slathered with an asiago-artichoke spread, and wine mulled with cardamom pods, peppercorns and other spices. I introduced them to my current four-legged family members and showed them around my humble abode, pointing out numerous cat toys and other feline-friendly accoutrements.
Westuffed ourselves at dinner, and my home was officially approved as a permanent haven for little Hope, who will join my feline family in a few weeks' time. I declared the evening a success!
Cheers,