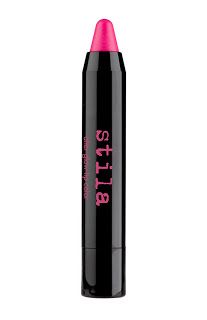 I've always been more of a fash-addict than a beauty obsessive but lately it seems that's changing and while fashion will always be my number one love I'm finding myself splurging on more and more beauty products than ever before.
As you may have noticed my two greatest loves are lipsticks of any sort (stains, glosses and tars included) and nail polish. While my new love has led me to discover many unique and totally awesome products I do think the new After Glow Lip Colour Collection from luxury beauty brand Stila is the most unusual of all.
This brand new lip range features a whole host of truly flourescent shades that are actually charged up by sunlight and then glow at night and when exposed to black light! Now tell me that's not freaking unusual!
If you're a club kid I'm guessing you're freaking out by now - this is after all quite the conversation maker, nudge, nudge, wink, wink - but even those who prefer a quiet night at home (i.e. me) can get on board with this range as the shades are bang on trend for summer and feature the same staying power and hydrating formula as all the other Stila lip products we know and love!
Tell me would you part with $18 dollars to get your glow on?
xx
Credit: Images courtesy of Stila