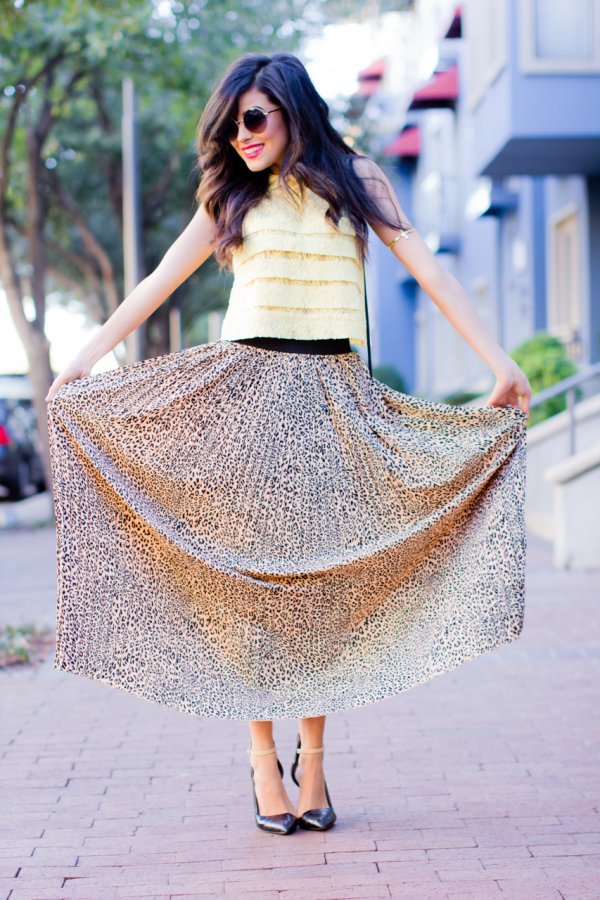 OUTFIT DETAILS:
Skirt: LOVE (shop here) | Crop Top: Forever21 (similar) | Heels: ZARA (similar find) | Sunglasses: Urban Outfitters (shop here) | Arm Cuff: Luna B (shop here) | Bag: Forever21
---
Before I get into the inspo behind today's look, I briefly have to shout and scream that I MADE IT TO THE SECOND ROUND of the Cotton 24 Hour Road to the Runway Show on People Magazine! I am seriously SO excited to get this far and want to thank ALL of you who voted weekly, daily, and hourly during round 1! Thank you!!!!! I am hoping to win this second round so I can compete in the final round for the grand prize in the south region! I hope you all will continue to vote and help me out- YOU are the reason I am here now! Much love! Easy voting links are below- save vote as often as you can!
Mobile Voting: http://cotton24hours.thefabricofourlives.com/mobile/duel/item/179/4

Computer Web: http://cotton24hours.thefabricofourlives.com/duel/sector/4
THANK YOU FOR VOTING!!!!!!
Okay back to fashion. Today's Spaz Outfit showcases an article of clothing that I rarely wear in my wardrobe: the maxi skirt. I am only 5'2" so I've typically stayed away from it because I feel like sometimes it makes me look shorter! This LOVE skirt however, won my heart for two reasons. First, it's pleated. Second, it's cheetah print! Win-win.
P.S I've pretty much been sleeping in these ZARA heels since I bought them. I don't want to take them off- like ever! They are so stylish and comfortable. Definitely my kind of shoe. :)

XO, Sazan