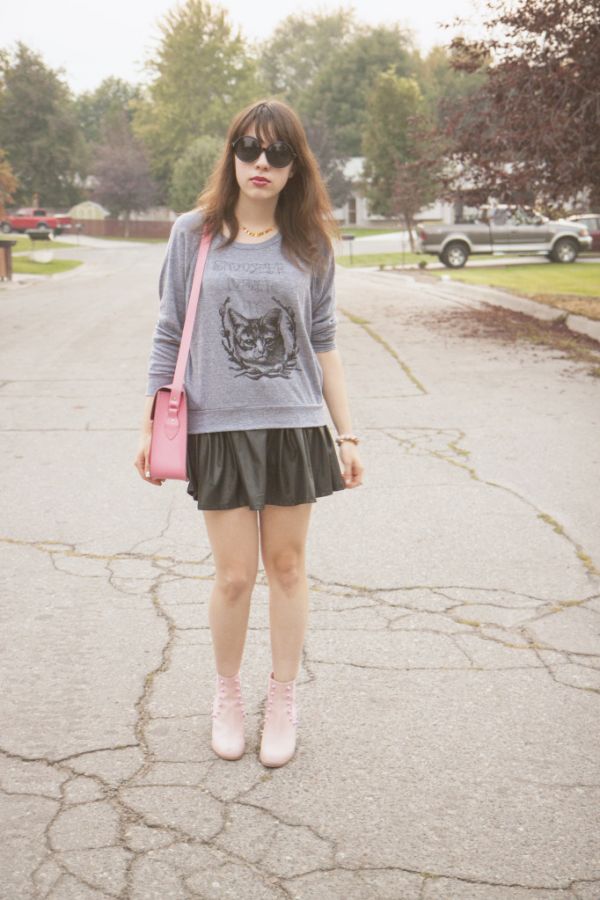 circle sunglasses from the Melrose Flea Market
kitty sweater c/o 
Snoozer Loser
pleated pleather skirt from 
ASOS
pastel pink skull bracelet c/o 
Starry Groove
vintage brass stud bracelet c/o 
Eclectic Eccentricity
wing ring c/o 
Shop RMS
pink studded TEN20 boots by TBA via
Solestruck
Being the huge cat fan I am, I can never pass up an opportunity to collaborate with a company that has a cat in it's logo.
Snoozer Loser
is a small clothing business located in New York. They make
pretty skirts
,
scarves
and more and are obviously fellow cat lovers. We may just be a match made in heaven honestly.
I'm still obsessing over my pleather skirt and probably will be until spring comes around seeing as this is the warmest skirt ever. It has not been a good idea to try and wear when it's been 80 degrees in the evening. I also seem to have a problem with combining it with only cat related attire.. or maybe I just have too many cat things? Is that even possible? NOPE.