This week got off to an auspicious start with a major stomach ache that came rolling in during my last class for the day.  Monday night found me skipping dinner and heading to bed super early (as in the sun had barely set early) in hopes of sleeping away whatever funk was trying to take hold.  I awoke feeling less than refreshed and opted to skip both my morning caffeine and breakfast for fear what havoc either might wreak on my stomach come first hour.
When it came time to get dressed for the day I knew I wanted something that would be work appropriate while still getting as close to the actual garments (pajamas) that I wished I could don.
This jacket was yet another after thought I picked up at Gap earlier this fall.  I am a sucker for a moto jacket; they are cool and provide just the right amount of edge without making me feel like I am trying too hard.  This particular one happens to feel like a sweatshirt, but clearly provides a lot more structure and style.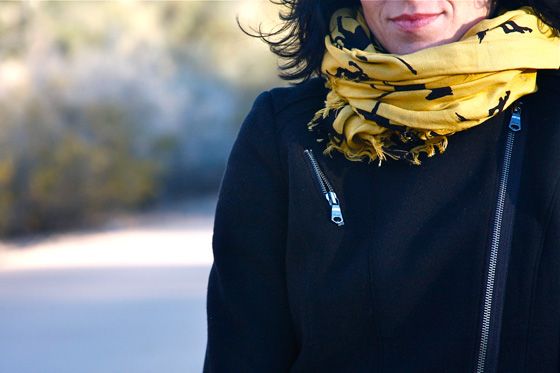 I layered the jacket over a t-shirt and thin sweater for some extra warmth and paired it with some skinny black jeans for a downtown chic kind of vibe.   I might not feel well, but that doesn't mean I want to broadcast that to the world via my clothes.  Plus, I am firm believer that something as simple as a great outfit can go a long way in lifting one's spirits.  And honestly, these jeans are about as close to leggings as one can get and still be able to wear them to work!
Because of the black, monochromatic look I opted for a fun scarf to complete the look.  The scarf provided a welcome pop of color and print without going overboard and, more importantly, made me feel a bit like I was still snuggled under the covers, which is where I really wanted to be!
Style Notes: Gap jacket (fall 2012; purchased at 50% off; similar style) / Old Navy (spring 2012; purchased at 30% off; similar style) / Gap jeans (fall 2012; purchased at 50% off; similar style) / Halogen shoes via Last Chance (purchased spring 2012; similar style) / Urban Outfitters scarf (fall 2012; similar style) / Madewell ring (summer 2012; purchased on sale w/ an additional 50% off; similar style) / Kate Spade bag via Last Chance (summer 2012) / Kate Spade bracelet (spring 2011; love this) / Michael Kors watch via Last Chance (spring 2012; similar style)