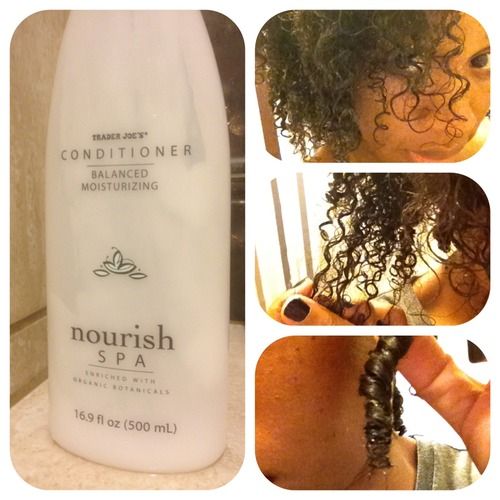 Rekindling a Love Affair
I get so bored with my hair that I often jump from style to style and forget what works for my hair.  Wash and Go's have always been a favorite, but of late, I've been twisting, bantu knotting, brushing, and combing and forgot how much my hair actually LOVES being wet.  Natural hair needs hydration.  Seriously!  All this week I tried styling my hair dry and my hair was not happy with me.  By the end of the week my hair basically said in its New York accent "forget about it" to anything I attempted to do to it.  My hair was blah, noncooperative and unhappy, which equates to bad hair days.
After my run today I decided to co-wash using my favorite conditioner of all time.  Insert drum roll here please…Trader Joe's Nourish Spa Conditioner!  I kid you not, as soon as I put the conditioner on my hair, my hair exhaled.  Yep!  I used this conditioner as a leave in and added virgin coconut oil to seal my ends and there you go.  My quick, easy, and pretty dependable hair regime.  Let all bow our heads and pray tomorrow my hair will be refreshed and happy.  A healthy head of hair, is a happy head of hair ;-)
Pictures above: TJ's conditioner; top pic/right column: fresh out of the shower; middle pic/right column: this stuff makes my curls P.O.P.; bottom pic/right column: after twisting my hair and coil the ends using coconut oil.  Treat your ends with R-E-S-P-E-C-T. 
Here is to never forgetting what works for my hair EVER again!
Living Simplistically!