Last summer Dusty and I were bumming around in Stillwater and we popped into a little clothing boutique. I saw these sequined leggings on the sale rack, and I was like... should I? Dusty had long since gone outside to escape, as men do, so I couldn't ask his opinion. They were reduced to such a great price that I decided I couldn't pass them up. I mean,sequin leggings. I think this will be my Thanksgiving outfit since its festive andcomfortable stretchy.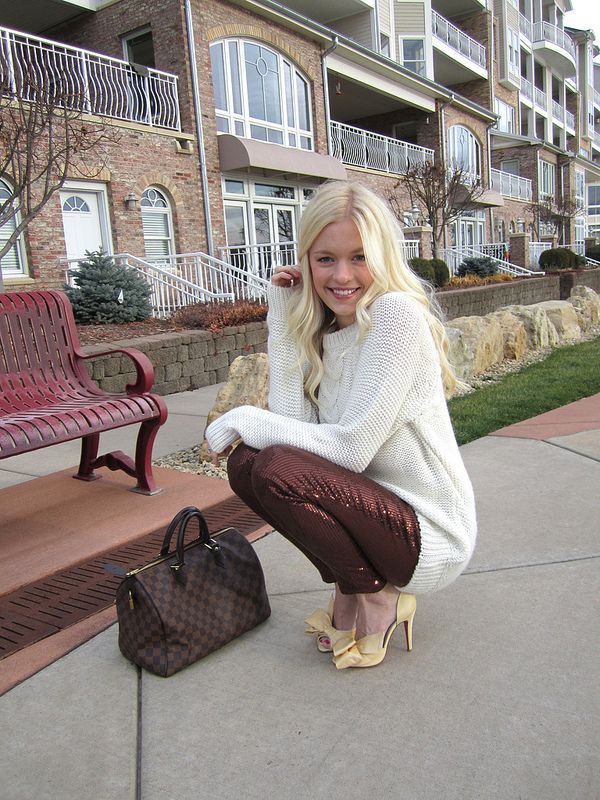 Sweater: H&M, Leggings: Local boutique, Shoes: Christian Louboutin, Bag: Louis Vuitton
The shoes are another item that require a bit of explanation. They used to be ivory and they were supposed to be my wedding shoes. I bought them in a frenzy of bridal excitement in Chicago directly after purchasing my wedding dress, when it seemed like the most logical thing to do next. Believe me, under no other circumstances would I own such extravagant shoes.
So they were sitting in their beautiful tissue lined box for months, just waiting for the big day. I took them out a few weeks before my wedding for my first fitting, and couldn't believe my eyes when I saw that one of the shoes had dicolored. I don't know how or why, but the ivory satin on one of them had faded to a strange grayish color. Obviously I flipped, and long story short I tried to have them fixed and they turned into this buttercream color. As much as I tried to persuade myself, I really didn't want to wear buttercream shoes on my wedding day. I ended up wearing really sweet little Kate Spades that I did love and were way more comfortable. So thats the saga of the unworn wedding Louboutins.
I didn't think I would ever wear them at all but when I was planning this outfit I was like, what shoes go with sequin leggings... And I happened to glance at these beautiful, extravagant, unworn red soled beauties, and I was like,