So if you haven't heard already, Radiant Orchid is the color of the year! That brings me to this sweater which can now be filed under things I'm glad I didn't give away when I moved across country. During my closet purge this sweater was one of the many things that I wasn't sure whether to keep or giveaway.
My mom gave this sweater to me about 3 years ago after I put 'Cashmere Sweater' on my Christmas list. On Christmas morning when my family and I were opening presents I opened this gem… "Do you like it, I got it from Costco" my mom said. I looked inside the sweater to see 'Kirkland' written on the label. I was a little stunned. One, because I didn't know Costco made cashmere sweaters. Two, because… Costco. Anyway, I came to like the sweater a lot. It's super comfortable, and the color is pretty. The only real reason it was in the 'not sure pile' was that I didn't know how often I'd be wearing cashmere sweaters in San Diego and I'm not a huge fan of the neckline which is a slight cowl neck. I quickly discovered though that with my long hair, I can wear this sweater backwards without anyone really noticing – which is exactly how I'm wearing it here!
Truth be told I really like the Radiant Orchid color and I think it's super flattering on pretty much everyone! I decided to keep the rest of outfit fairly simple, just adding these super cute floral heels and a little sparkle from Forever 21.
Will you be wearing some Radiant Orchid this year?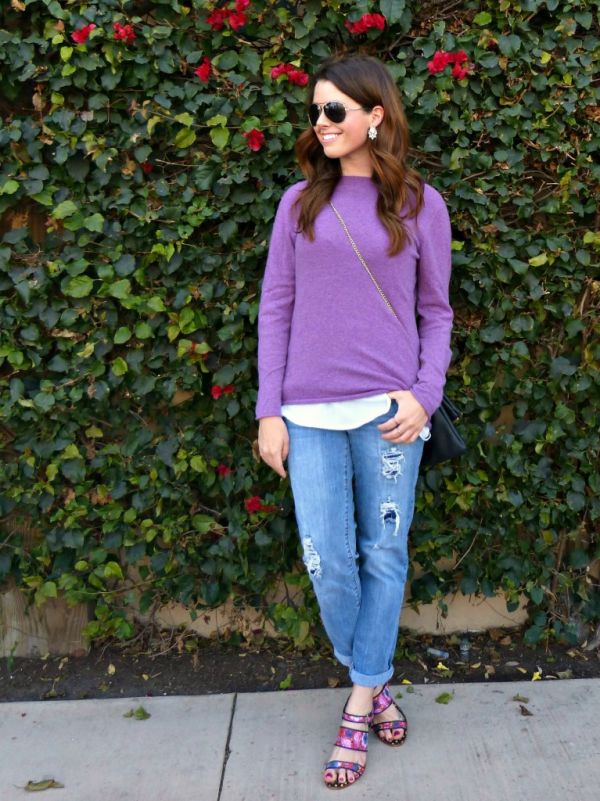 Sweater: Kirkland // Tank: StyleMint // Jeans: Jessica Simpson // Shoes: Anthropologie // Bag: Forever 21 // Earrings: Forever 21 // Sunglasses: Urban Outfitters // Nail polish: Essie Big Spender
Thanks for reading and have a fab day!