I love the Emmys because they fall right in the middle of nothing. Awards season is fun but when you see a major red carpet week after week it becomes too much of a good thing (except for those actually involved behind-the-scenes...oy). The Emmys offer just a taste of what we get come January and though a huge awards show, there seems to be less pressure in September on the television stars. I happened to be quite impressed with what walked the carpet this year and loved that we heard the words "Judith Leiber" more than we heard "Breaking Bad." Here, in no particular order (except for how I labeled them) are my "Best Dressed" picks for this year's Emmys Red Carpet.
Number 5
     I will admit, I started out on the fence when it came to Zooey Deschanel in this Cinderella-esque dress by Reem Acra, but the more photos I saw the more obsessed with the look I became. While over-the-top girly-ness might not be my thing, the look suits the actress and I was happy to see her in something other than a teacup length dress...and way to sex it up a bit by showing some cleavage. She managed to do something different without straying from her personal style-which isn't always easy to do.
Number 4
Emily VanCamp's
 stylist must have been sitting front row at the
Zac Posen
Spring 2013 Ready-to-Wear show because, correct me if I'm wrong, a very
similar dress
went down that runway. I absolutely love
almost
 everything about this dress, from the breezy fabric to the detailing at the waist, this is a red carpet gown. I do think that grey is a difficult color for almost any women to wear so kudos to a great spray tan (assuming) because VanCamp was definitely owning that dress.
Number 3
     I mean, Heidi Klum in this number by Alexandre Vauthier...is everything. Angelina Jolie take note-this is how you give good leg. 
Number 2
     Leslie Mann flew a bit under the radar on the red carpet but I caught her in the background on E!'s Live From the Red Carpet and have to say, kinda died for this dress by Naeem Khan. It's more casual than most other dresses but it is GORGEOUS. I love the bohemian feel and the turquoise earrings totally completed the look. If I were going to the Emmys, this is what I would want to wear.
Number 1
     Hayden Panettiere floated across the red carpet in this dress by Marchesa. There was something so effortless about the actress on Sunday from the way she wore the designer to the way she carried herself through interviews. I guess this little Ice Princess went and grew up on us.
50 Shades of Bright Yellow...
Hannah Simone
in
Emilio Pucci, Claire Danes
 in
Lanvin
,
Julie Bowen
in
Monique Lhuillier,
and
Julianne Moore
 in
Dior Couture by Raf Simons
proved that bright yellow was
the
color for this year's red carpet. Gotta say love
the color
, but don't necessarily die for all these dresses (Bowen's, however, was a knockout).
All That Glitters...
     Julianne Hough in George Hobeika, Kerry Washington in Vivienne Westwood, Nicole Kidman in Antonio Berardi, and  the evening's most anticipated star...Sofia Vergara in Zuhair Murad all lit up the carpet with shimmer. While Kidman can easily pull any designer she wants, Vergara definitely took this category when she gave her donka a shake for the E! cameras.
The Dress That Won't Go Away...
     Seriously, you don't have to follow fashion to know that this Stella McCartney dress, though amazing, has been played out. Although Edie Falco looked great, the fact that this dress has been done over and over again makes this the year's biggest *OOPS*. No matter how hot you look...who wants to go up against Brooklyn Decker in a "Who Wore it Better" special (which, side note, has also ALREADY BEEN DONE ON THIS DRESS).
Honorable Mentions...
Ginnifer Goodwin in Monique Lhuillier
January Jones in Zac Posen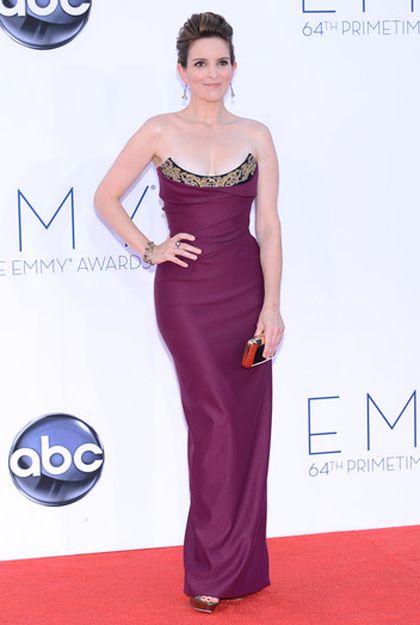 Tina Fey in Vivienne Westwood
Christina Hendricks in Christian Siriano
Julia Louis-Dreyfus in Vera Wang
     Overall I think the television stars brought their A-Game this year. The red carpet might have been missing the obvious "Best Dressed" lady but instead we saw a handful of very well-dressed candidates. Of course, there were also a few "What was she thinking" moments which are, perhaps, what we secretly look forward to anyway.
     xoxo,
     Cat