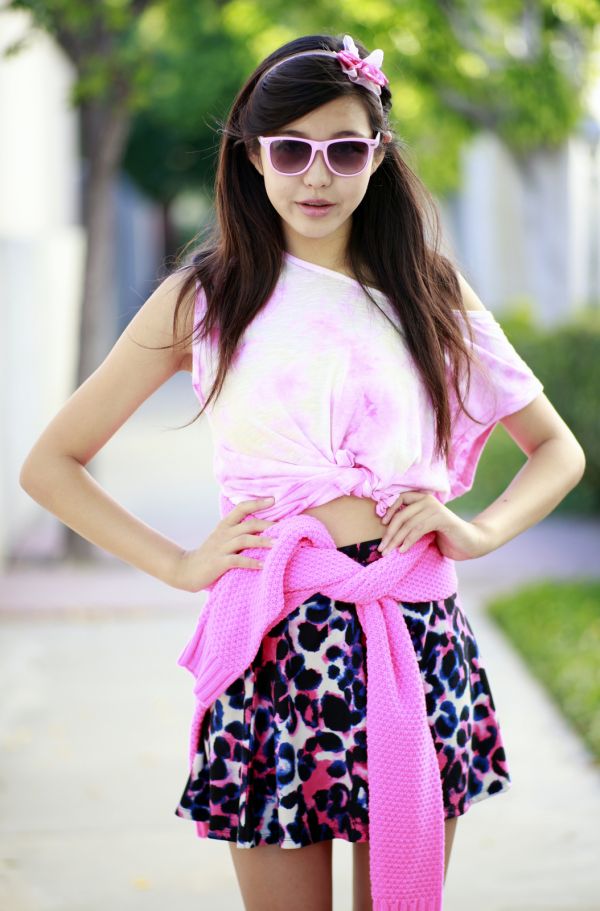 Shirt ~ Femme Arome, Skirt ~ Forever 21, Sweater (tied around waist) ~ Zara, Shoes ~ Converse, Sunglasses c/o o3eyewear
Channeling my inner kid here haha (: My fave color is pink and I haven't worn bright neon colors for a while now, so I decided to go all out with this outfit. Thank you to
O3eyewear
for these adorable sunglasses!!! I'm always in need of sunglasses, and this pair adds just the right amount of spunk and color to any outfit!!! I love how the edges are white, while the frame is this light pretty pastel pink color! Definitely going to be wearing this all summer long! If you want a really good pair of sunglasses, check out 
www.o3eyewear.com
 (the store is not opened yet, but you could sign up via email to be notified when it does open) and receive a 20% off with the code: BLOG20. Also, 
O3eyewear
 has FREE shipping!!! So make sure to sign up to be notified when the store opens and you won't be disappointed!!! I peeked at several of the sunglasses being sold, and they all look gorgeous! 
Well, I'm officially 16!!! Haha finally old enough to drive!!! YAAAYY (: Anyways, it's always like this for me, but I don't really feel any different yet. It's always later on in the year, when I actually realize how old I am and then I think to myself that I should better start acting my age. Haha I'm a kid at heart <3
Thank you for reading and how is everyone's summer going?!