I'll admit that I haven't shopped at Lands' End in a very long time.  But that may change soon -- they've seriously stepped up their style game with these new arrivals for spring.

The embellishment on this cardigan totally reminds me of some of the statement necklaces at J. Crew right now ... and I love how the bright colors really pop against the navy.  Totally genius to pair it with the mint pants, too.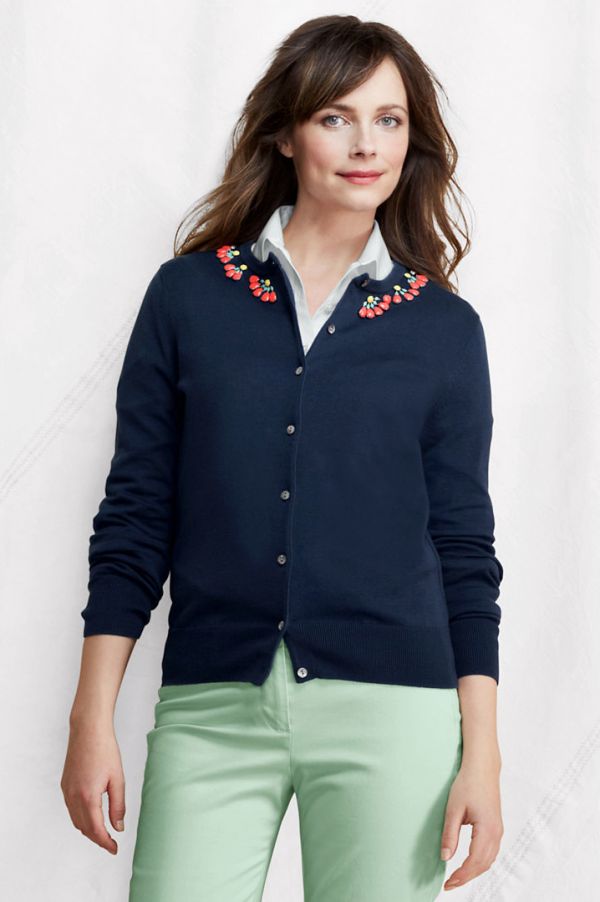 This chevron print wrap dress would be totally effortless on a vacation somewhere warm. And even though it would be most at home on the beach or boardwalk, I would also venture to layer tights and a turtleneck underneath it in the cold weather.




This large link necklace also looks like something much pricier that you'd see at a department store.  This makes a major statement all by itself, but you could also easily stack it with some other necklaces of varying metals and thicknesses.




This striped v-neck henley sweater ... GAH ... I can't take this level of chic preppy coolness. Honestly. I love the navy and the kelly green ... and the tiny little pocket ... and the grommet-style buttons. I even want to buy the polka dot scarf to wear with it.




This cap sleeve embroidered dress ... there isn't really much to say about this dress. It's just effortless.  It's an easy silhouette that flatters most everyone. The pattern is perfect for spring ... but like the other dress, you could easily layer it with other pieces to transition it for the colder months.