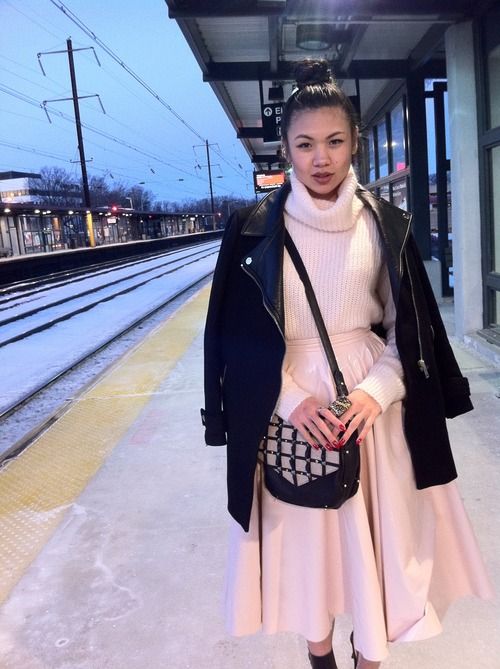 Sweater - Zara (similar)// Skirt - H&M(similar here and here)// Jacket - Zara// Necklace - F21(similar)//Ring - Robyn Rhodes// Shoes - Zara (similar)// Handbag - MARYLAI
If Carrie Bradshaw and Inspector Clouseau had a baby girl, she'd possibly dress like this. That was a joke, sort of.
This is one of my NYFW AW14 looks that kept me very warm in the snow cap while still turning heads. Capturing this outfit within 5 minutes, I had a train to catch. Luckily, I made it in the knick of time. Daddy would be proud.
I enjoy wearing a piece in many different and surprising ways. The trick is to think outside the box. Try tucking a chunky sweater in a ball skirt or wearing a light turtleneck sweater underneath your favorite LBD. How about using a necklace as a head piece or around your wrist as a bracelet. Or using a chunky stud as a brooch or on the two tips of your collar for an instant neck statement.
What's great about this outfit is that it is all recycled pieces. I don't believe in wearing a piece once. It's not practical. After all, a wardrobe is an investment, not a lease. The skirt is an H&M leather piece I wore on my birthday and in this post here, the sweater will be featured in another post soon but worn much more casually, the jacket is a staple in my closet and have been featured on my blog numerously, and who can forget these great pumps that was also featured here and here. The chunky bracelet seconds as a necklace. Click the links to see how I wear the pieces differently.
What fashion tricks do you have or want to share?
I'm currently obsessed with the MARYLAI Jayel Bond crossover. It goes with EVERYTHING. It is the perfect combination of leather and linen, gunmetal and gold, elegance and edginess. You'll be seeing more of it. I can guarantee it. I had the pleasure of meeting the woman behind MARYLAI and she is a true artist. I met her for the first time during the Creeds of Love event I hosted and fell in love with her sincere talent and artistry. Not only does she design handbags made straight in New York, she is an incredible artist, creating a painting that was auctioned off that night for charity. An impressive lady that is also contributing to the world with her own bare hands. What's not to love! Check out her website to find more ultramodern handbags.
Photos by Pedro
xNB