The movement towards a more natural, organic lifestyle has taken over the nation as many people from Hollywood to New York are choosing this healthier way of living. Although this way of life originated in the kitchen in order to produce clean, raw foods it has now moved into our fashion world as well.
Many companies have emerged basing their fashion products off unrefined materials. The eco-friendly concept relies on the use of hemp, soy, natural cottons, and other renewable fibers to produce fully organic clothing. It may seem a bit silly to the common consumer that this organic trend has now implemented itself into this industry. However, this movement is not as far-fetched as it may seem as it is very beneficial. Many people these days have developed skin allergies and cannot wear certain fabrics and metals. Most commonly, the use of nickel in denim has caused thousands of jean lovers to discard their most beloved pair of skinnies in order to avoid a skin reaction. Organic clothing is naturally hypoallergenic and free of chemicals or pollutants that can cause allergies.
Seeing this benefit, as well as many others, celebrities and their children have become big supporters of the organic clothing movement. Actress Jessica Alba who created The Honest Company which produces natural products for babies, is a large supporter of organic clothing. She is often spotted dressing her fashionista-like daughters, Haven and Honor, in clothes that are produced from soybean fibers and other renewable materials. "Friends" actress Courteney Cox and mother of her stylish little one, Coco, has been very dedicated to this natural movement for quite some time. Coco is often seen strutting her stuff in beautiful patterns and bold colors. Her style may be organic and natural, but it is never boring.
As the transition into more natural clothing has been taking the fashion world by storm, shoppers can expect better quality in their wardrobes. Organic cottons do not go through a chemical process which strips away their natural wax replacing it with synthetic materials. But rather organic cottons keep their basic wax which results in a more durable and shinier looking fabric. Hemp, another commonly used organic fiber, is mold resistant and also helps to protect skin from UV rays. The hype over organic clothing is becoming more and more justifiable with the discovery of all the amazing benefits.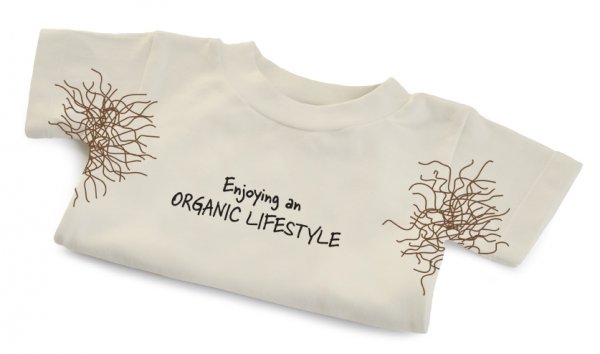 Going the whole nine yards with the choice of an organic lifestyle is a really great way to promote a healthier way of living. Jessica Alba, Courteney Cox, and hundreds of other moms are seen in their organic, yet stylish attire purchasing their natural foods at farmer's markets across the nation. The lifestyle is easy to maintain as organic foods and clothes can also be purchased online. NaturalOrganicFoods.com is a very popular all natural clothing store found on the web. CulturesForHealth.com is also a favored website amongst many to purchase self-making, organic foods & snack. Its almost impossible to escape this trend and it's accessibility.
In order to live a healthier, more environmentally conscious lifestyle organic clothing is the way to go. As many fashion designers and your favorite brands are turning to more natural fibers, it will only be a matter of time before everyone's closets are full of organic clothing.