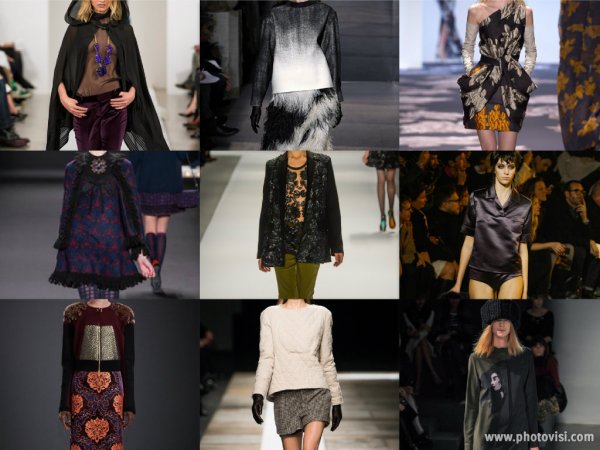 Top Row L-R: Oscar de la Renta, Proenza Schouler, Vera Wang; Middle Row L-R: Anna Sui, Nanette Lepore, Marc Jacobs; Bottom Row L-R: Rachel Roy, Theyskens' Theory, Victoria Victoria Beckham. All images via style.com.
Let's face it, the second half of New York Fashion Week witnessed non-stop action Monday through Wednesday with too many amazing shows for me to keep up with. Thursday brought things to somewhat of a calm end with the re-scheduled Marc Jacobs collection show quite literally setting the sun on the events in New York for another season. Unlike the first half of the week, I found it difficult to identify my top five favourites for a different reason: everything was amazing! There is no doubt here that good things come to those who wait as the collections debuted in the second half of the week came out on top. Have a read of my review of New York Fashion Week's shows running February 11-14 below to see how they stack up against the first few days.
Here are my overall favourites from the second half of the Fall/Winter Ready-To-Wear shows:
...And my top five favourite collections from the second half of the week are:
Five - Nanette Lepore
Nanette Lepore promised lovers of her label a trip to Mars with the Fall/Winter collection. And though I expected a bit more from the venue, the music, holographic accessories, and patterns certainly did lend themselves to an otherworldly vibe (though perhaps not Mars). This collection was everything! What I love about Nanette Lepore is that you can always expect something that is clearly her and no one else. My other reason for loving this collection was that for the most part, it reflected my personal style, and items I would wear day to day. Keeping up with what is likely to be huge this fall, pants, skirts, jackets, and dresses were all shown in army green with good measures of black and deep purple. Lepore also brought us her space age feel through a number of pieces patterned in the colour scheme you may see in a distant planet. I can't wait to get my hands on one of her holographic bags - something surely to be on trend later this year.
Four - Anna Sui
The Anna Sui Fall/Winter presentation started off a little differently than the others - five models breaking into a little dance routine followed by Karlie Kloss beginning the show. This unique way of opening the show was reflective of the fun and eccentric vibes of Sui's latest collection. Like many others this week, her looks were influenced by a retro feel - the swinging 60s the decade of choice here - which could be seen in the mismatched patterns and rounded ponytails, which I loved. When it comes to accessories, my favourites were the hot pink tights sported by Karlie at the outset as well as the big necklaces with a costume jewelry feel. Fabrics and patterns came in every colour from various shades of red, blue, green, and purple. Each look featured a range of styles from striped to flower patterns to matallics to lace (in a final look that was simply to die for).
Three - Vera Wang
The Vera Wang Fall/Winter collection came in a variety of shapes - giant, rounded fur wraps and deep Vs on dresses - and colours, emitting a few different vibes while staying true to a clean, classic look. Ever chic, the looks progressed from a neutral colour palette to brighter, eye catching sequins and patterns in purple. I particularly fell for looks 38 through 48, dresses, pants, and sheer blouses in a soft flowered pattern mixing purples, oranges, and grays. This collection offers everything needed to create a confident and sophisticated woman.
Two - Proenza Schouler
For me, just about everything was perfect at Proenza Schouler Fall/Winter 2013. The show was held at 5 Beekman Street, a venue which had an abandoned feel and that looked decayed yet ultra chic. The music and setting, including a carnival-esque mirror, took the entire experience to the next level for me, setting the perfect tone for a collection that was predominantly in black and white. The show opened with a cropped rounded jacket and continued with a number of sharp angles. Though colour was kept to a minimum, texture made up for it - my favourite being two tiered feathered knee length skirts. The shoes also had a lasting impression on me - particularly those with little knotted bows at the ankles. This collection embodied a strong woman who would most certainly be noticed without needing to be over the top.
One - Oscar de la Renta
It's only natural that veteran Oscar de la Renta leads the pack with one of the best collections of the season and certainly my favourite from the second half of fashion week. The looks for Fall/Winter express not one central theme, but many - ranging from those memorable hats paired with skirts and blazers oozing a high class yet professional feel, to the hooded capes giving off a mysterious sorceress vibe, to bright yet classic prints perfect for an Upper East Side lunch, to ultra glam evening wear. And let's not forget the show most notably made headlines for some of the biggest buzz of fashion week - 'Designer in Residence,' John Galliano. Voices from all over the industry have pointed out that Galliano didn't need to be viewed in the flesh to be seen, with a number of looks reflecting his touch. A review of the collection on Women's Wear Daily suggests that "those done up for evening wore lavish, dark-eyed makeup and hair greased into waves, a look that might have been transplanted from a Galliano runway of yore." Though I've been unsure which side of the fence to come down on regarding Galliano's imminent return, I can say that if Galliano influencing the latest de la Renta collection is wrong, I don't want it to be right.
The Fall/Winter collections presented in the second half of the week were so amazing that my list of honourable mentions is just about as long as my top five:
...And the collections I found left a bit to be desired:
Like the first half of fashion week, the second was not without some collections which simply didn't take my breath away (even though I had high expectations for these longtime favourites).
Marc by Marc Jacobs -For me, the take away moments from Marc by Marc were the big hair, ultra chic retro shades, and leafy patterns. While I by no means disliked the collection, I didn't love it either and the whole thing just didn't live up to all of my anticipation. It doesn't help that I don't like red which played a major role in this story. Though I wanted to want everything, in reality, there were really only two pieces I am coveting (see looks 36 and 40). When it comes to a fun throwback vibe, DVF offered us a much better execution of the look.
Tory Burch - New York Magazine's The Cut hit it spot on with their review of Burch's collection, suggesting "the whole thing felt like Tory was celebrating her upper handin the legal settlement she reached with her ex-husband and former business partner Chris Burch." For such an over-the-top presentation with expensive looking everything, Burch's latest for Fall/Winter was not anything I'm dying to invest in. While I did like the sheer, gauzy blouses, half of the looks felt like something an old wealthy grandmother would wear. All the glitz and glamour didn't do it for me and instead, it all just felt full of pretension. Though I have been a big fan of Tory for over five years, after my first introduction to her handbags at Bloomingdale's on a trip to New York, sometimes change is good.
In sum, Oscar de la Renta and Proenza Schouler take numbers 1 and 2, respectively, but between Vera Wang, Anna Sui, Nanette Lepore, Marc Jacobs, Rachel Roy, Theyskens' Theory, and Victoria Victoria Beckham, it was just about impossible to rank the remainder of my top five. ...And since the flawless execution of my honourable mentions seemed to double as a secondary top five, I didn't even get around to mentioning a few others that caught my eye!