Cropped Top: Forever 21
Tartan skirt: Barrio Vintage
Lace pumps: Tory Burch|Similar style here
Necklace: Lagi Nadeau
Lambskin bag: Juicy Couture|Similar here
Earrings: Vintage button earrings
Celebrating (Almost) Fall With School Girl Chic Style
School is officially in session and even though I'm not a student, I'm nevertheless inspired by tartan print, which is what everyone associates with that classic "school girl" style. Here I've paired my favorite tartan skirt with a simple cropped top (I typically try not to spent much on super trendy clothes, so I go to fast fashion retailers), which I think makes the skirt and overall look a lot more modern. I'm also obsessed with the color crimson, which is so perfect for fall. When I remembered I had these awesome Tory Burch lace up pumps, I got so excited because I think they just helped tie everything together.
Here are my thoughts on how to do a killer modern school girl look:
If you go the miniskirt route, add an edgy top, like a moto jacket, to add a little edge to your look
If you live somewhere where there is an actual fall season (unlike here in Hawaii…), layer, layer, layer to add impact to your look! Try a blouse, cool vest, and awesome trench to complete your look
Add a contrasting pop. I chose to keep everything in the same color scheme, but I could have thrown an awesome jacket in a contrasting color that would have made the print on my tartan skirt stand out even more.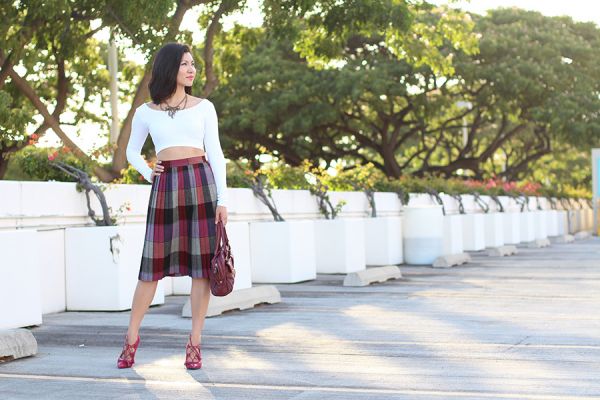 The post Modern School Girl Chic Style appeared first on Cao Bella.