Although I am definitely a girly girl in some respects, there is nothing I enjoy more than wearing military inspired clothing.
Maybe it's due to the fact that the past two generations of men on my father's side were in the military in Italy, or maybe it's due to the fact that I've grown up with an air traffic controller who loved everything to do with aviation. Whatever the case, camouflage pants, bomber jackets and Ray Bans are the coolest in my book.
Today's look shows off my tougher side, and it's a nod to my daddy.
When I was in my first year of college I owned a pair of camouflage pants from Abercrombie & Fitch, and I loved them so much that I wore them literally to shreds. Since then, I've been on the search for a replacement, until I walked into Zara and tried these on. Needless to say, they are my new favorite pair of pants.
The faux leather bomber jacket is an old H&M find, bought for a steal during one of their winter sales.
If you follow me on Instagram you know that the boots are one of the new Black Friday purchases from Zara. There was a table filled with shoes on sale, and it was heaven!
The vintage Ray Bans are a recurring pair of sunglasses on the blog, but they hold a special place in my heart as they used to belong to my father, a true trendsetter in his own right.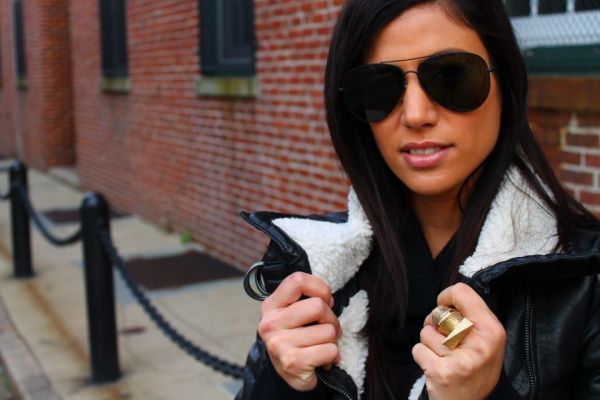 Pants and Booties : Zara (similar pants here and booties here)/ Sweater and Stackable Rings: BCBGMaxAzria (similar sweater here)/ Jacket: H&M (old) /Sunglasses: Vintage Ray Ban
Trends or not, you have to dress in what you love.
How do you feel about military inspired clothing?
Photography by Brian Bramble.
The post Military Chic appeared first on Something About Patry.