We ordered so much Chipotle on Friday, they gave us a box.
Welcome back to reality everyone! I first wanted to say a very special hello to all of the new readers out there. Thank you all so much for joining in on the fun. I also wanted to point out my new address....www.denimanddaydreamsblog.com. Yes, we are movin' on up over here to a really fancy new url. I also figured our the issues on Bloglovin, so if you would like, please follow me there too!
Now, on to the weekend. Gregg and I were asked to dog-sit out in Western Mass this weekend. Thisexperienceonly proved my point that getting a dog is afantasticidea. Yes, Gregg did the walking, feeding etc., but I did a lot of the hanging around with said dog and to be honest, it was lovely. I don't want to say much more about this, as I am sure I will get some hateful comments from Gregg,anonymousof course.
Anyways, I figured I would document my outfits from the weekend to give you a quick glimpse into what I packed for a weekend away. Please note: I know I look like a goober. I just can't help that. So without furtheradieu, what are some selfies (in a formal dining room) between friends?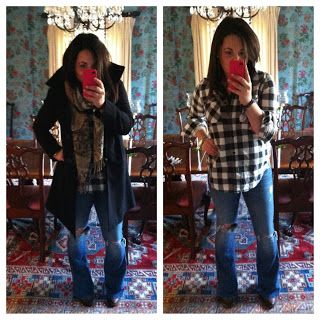 Now some random thoughts and Instagrams from the weekend....
after work drinks on Friday...a must have this winter.
I have neveractuallyhad one of these, but I just know I love them. Especially in this fun color!
via

This recipe will be made this week, that is for sure! I have a weakness for anything Asian-inspired.
I decided I need some fun patterned shorts this summer.
Is this little nugget serious? I love her. She has more style in her pre-teen pinky finger than I have in my wholecloset.
Lastly, I sawZero Dark Thirty this weekend and Iloved it. I feel pretty proud that I have seen a movie nominatedbefore the Oscars.

How was your weekend?Any Manic Monday thoughts??