The Magnifique of the Week is……… Old Navy's Rockstar Skinny Jeans.
Yes, I could save these for my $20 spice up this week (because they are currently on sale for $19), but I thought I would give you Frock Stars an extra bonus!  Skinny jeans look amaze on all shapes and sizes, and these are insanely comfy.  Old Navy Rockstar Skinnies have just enough of stretch, that it feels like you're wearing dressy leggings.  They're also available in a wide array of colors, so you can match everything that you own.  Here's a quick breakdown of how I would frock a few of the different colors:
Black – To werq with a tie neck blouse and black pumps.  By using the black shade, and dressing the denim up with a blouse, you can totes make skinny jeans werq approp.
Basil Pesto – These are a dark/khakish green.  I would wear these with a slouchy grey cable knit sweater.  Heather grey will soften up the army color, making these the perfect pantalones to wear while Xmas shopping.
Juicy Grape – Camel would look sickening with this pair.  I'd wear a white tee with a camel colored blazer, and a statement necklace…. chic.  So cute for a dinner with amigos.
Creme Caramel – These are like khaki, but trendier and sexier.  The color is soooo versatile, it can be dressed up or down.  I'd rock the frock out of these to the dog park with a Fair Isle sweater and flats…. and then to a bar with a silky navy tunic and grey pumps.
Old Navy is also great because they offer a variety of sizes, so virtually anyone can find a perfect fit.  Not only does the every day Frock Star enjoy fashion on a budget, but some of my fave celebs were spotted in Old Navy Rockstar Skinnies too….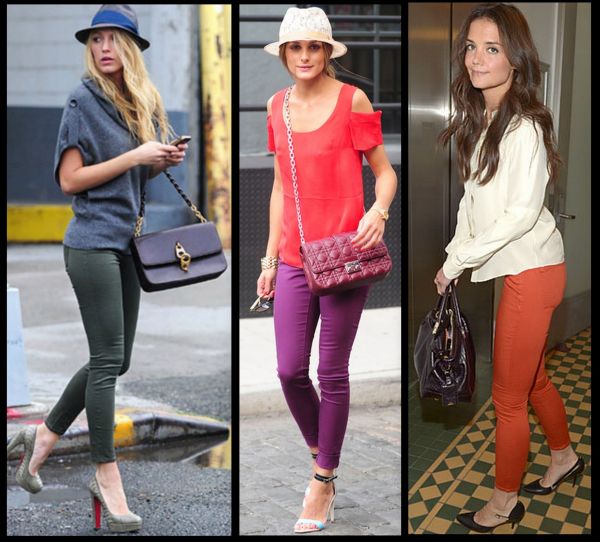 1.  Blake Lively –  Always looks stunning.  Everything she wears is sooo right.
2.  Olivia Palermo –  Not my fav person, but she always looks ravishing.  I've never seen her in something that makes me think, "What The Frock".
3.  Katie Holmes – How fierce is Miss Holmes since her divorce?  She has never looked better, and those rusty skinnies have me gagging over here (in a good way), werq!
So, Little Frockers…. Whether your budget is big or small, these skinny jeans will werq for us all!
Put A Frock In It*
- S