Do you have a lot of magazines that you just do not know what to do with? Well I am one who loves reading magazines and I save every issue I have ever gotten! When I moved to college though, I realized that I could not take all my magazines with me. I then decided to create a magazine binder.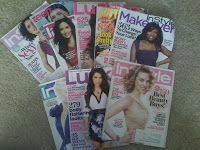 I looked through all my magazines and cut out my favorite articles from each magazine. Since I never read the whole magazine twice I just saved the articles that I enjoyed and knew I would read again. Then I found a three-ring binder that was in my basement and I decorated the cover of it! I put all the articles that I had cut out in page protectors that way they would not get ruined. You can get hole-punched page protectors that go nicely in the binder. I also got page dividers so I could catagorize my articles. The catagories that I have in my binder are the following: Clothes; Shoes, Purses, and Jewelry; Hair, Makeup, and Nails; Health and Style Tips; and Extra Articles. With these different
dividers it is easy to find specific articles s cute outfit ideas, color schemes, skin care, hair style ideas, etc.
I love this binder! It saves so much space because I do not have to save all my magazines any longer; instead, I just save the parts of magazines that I would accually read again. Because of this binder, I can have my magazines in my dorm room without cluttering up my room :)