Last Wednesday, I hopped on a train and headed to New York for
Lucky Magazine's
LuckyFABB
Conference. The buzz leading up to the conference had me beyond exerburant to get there. Plus, as I attended last September, I knew that this year Lucky was going to up the ante - and they absolutely did not disappoint.
Here's what I wore, in case you were curious...
What I Wore:
Cobalt Blue Peplum Top - Forever 21
Striped Skirt - I'm Your Present via Etsy.com
Hopee Heels - Steve Madden
Kristen Leather Satchel - Coach
Triple Threat Bib Necklace - c/o Sorrelli
Deco Strap Bracelet - Henri Bendel
Rivet Wrap Bracelet - Henri Bendel
Handmade Friendship Bracelet - The Pulsera Project
And let's not forget about the fashion bloggers. Homegirls brought the style - arms stacked with bangles and baubles, dope shoes, and printed pants like whoa. Plus, after months of talking to some of my blogging buddies on Twitter, I finally met these fashionable dames in the flesh! 
With a theme of "making it on your own", speakers, panelists and industry insiders, including Raman Kia, who gave us the low down on traffic and analytics, to everyone's favorite arm partier,
The Man Repeller
, shared tidbits on all things fashion, as well as words of wisdom to help give us bloggers the kick in the arse we need to make our blogs bigger and better. 
Check out some of my favorite moments from the conference!  
Aliza Licht, Senior VP and the voice behind DKNYPRGirl & the crafty Erica Domesek of P.S. I made this... dish on the importance of staying true to your voice. 
Lauren Conrad looking ballerina chic in her Paper Crown dress and LC Lauren Conrad stems from Kohl's. Loved how she was so genuine and humble.
Funky arm swag courtesy of BCBGeneration!
Lucky Magazine's Editor and Chief Brandon Holley and "Shut it down" stylist Rachel Zoe doing the powerful women thang during their conversation. I don't know who's accessories I want more: Brandon's shoes or Rachel's necklace.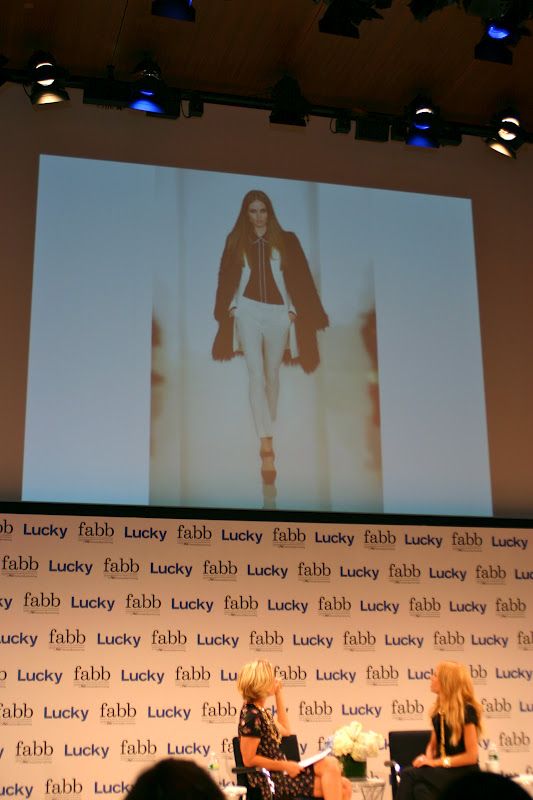 "You have to keep looking forward. Nothing will just fall in your lap," 
Rachel Zoe said of her success.
Reunited! My LuckyFABB partner in crime last year, Amy of
I'm Gunna Fly!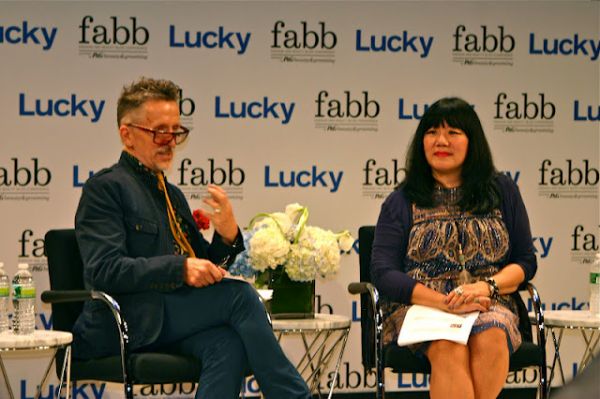 Simon Doonan of Barneys and the always cool Anna Sui gabbed about Anna's stardom, and influences which includes nods to punk music and glam rock growing up in Detroit.
I was thrilled to hear that both Anna and Simon dislike the topknot.