Last Tuesday I finished up work early and ran home to finish packing before picking up my husband and heading for the train. We arrived in Grand Central Tuesday night and stayed in a great place on West 43rd street that we found through Airbnb.com. We arrived to one of the most humid nights all summer with a light drizzle which made our late night stroll through Time Square much less enjoyable. I was praying that it would let up for the next 2 days of fashion and bloggers, mother nature met me half way.
Wednesday morning, after a quick stop at Starbucks where I forgot part of my order and ended up making a mad dash back, I arrived at the Times Center for Lucky Fabb. It was a color and print explosion with sock buns in every direction. Not only did everyone look amazing but they were all flashing stylish business cards and sipping their fat free lattes and other caffeinated beverages while waiting for the doors to open.
Inside was 2 floors of brand experiences full of amazing jewelry and clothes to try on, photos being taken, and beauty products to try. I got a chance to experience a few of them during the breaks from the conference but my main focus was the great tips and speakers just inside the auditorium doors.
It was also an excellent chance for me to get to meet some of the fantastic bloggers I get to tweet with each week during the #BlogTrends weekly Twitter chat. The girls are all so photogenic and friendly, it was nice to finally put a real face to the Twitter handles!
Lucky Magazine had lined up some incredibly talented and successful people to talk to us about topics that impact us as bloggers. Some of the topics were more fashion related while others spoke more specifically to blogging. Some of the people I was personally most excited to see were Rachel Zoe, Lauren Conrad, Anna Sui and Aliza Licht, aka DKNY PR Girl.
Rachel Zoe took us through some of the looks in her new collection and Anna Sui gave us a look at an inspiration board with colors and prints for her new collection. While they were all wonderful to hear from there was quite a few other people that I found to be very insightful and had a lot of great information to share with us.
Terry Lundgren, CEO of Macy's, reminded us to take a page out of their book. At Macy's they try to focus on defining who their customer is through research, studies, communications and focus groups. While all of these techniques may not exactly apply to us, some of them can be used to help us define who our readers are and what you as a reader are looking to get from your time on our blogs.
Raman Kia, executive director of digital strategy at Conde' Nast, offered a few great tips for focusing on some of the analytics around blogging. One of the key points he made was to put everything in context, analytics mean nothing unless you know how your competitors are doing. He also offered us new tools to learn about our page authority and pointed us to additional Google tools.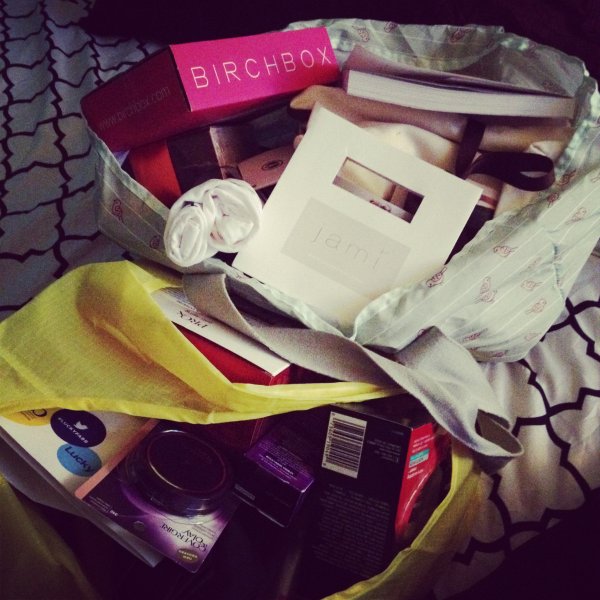 Lucky wrapped up the evening with a cocktail party and even more gifts for the Lucky bloggers. Being nearly 5 months pregnant the cocktails were out of the question but I took the opportunity to do a bit more networking and got a chance to say hello to Lucky Magazine's editor in chief, Brandon Holley, before digging into my swag bag. What was so amazing about the gifts inside was that many of them came with invitations for us bloggers to work with these brands in the future instead of just being free gifts. Some of them even offered us discounts to share with our readers! (stay tuned for some of those!)
Day 2 - Shopping in Soho
Brunch at Levi's started at 10am with mini quiches, bagels and virgin mimosas. I had a great time getting to chat with the other bloggers while we chowed down and got fitted for some fantastic Levi's Curve ID Jeans. Being pregnant I opted to just go with the same size as the pair I already own and hope to be able to wear them sometime around my birthday in February after the baby is born.
I got the chance to chat with the very sweet John Jannuzzi, the man behind the Lucky social media and much more, as well as Natalie Matthews, digital fashion writer for lucky. After enjoying some breakfast we headed out to check out some of the boutiques, a couple of which were Kirna Zabête and Coach.
It was the most amazing day of friends and fabulous shopping, I am truly looking forward to the next conference in NYC. Thank you to Lucky Magazine and all of the bloggers that make it the incredible event that it is!