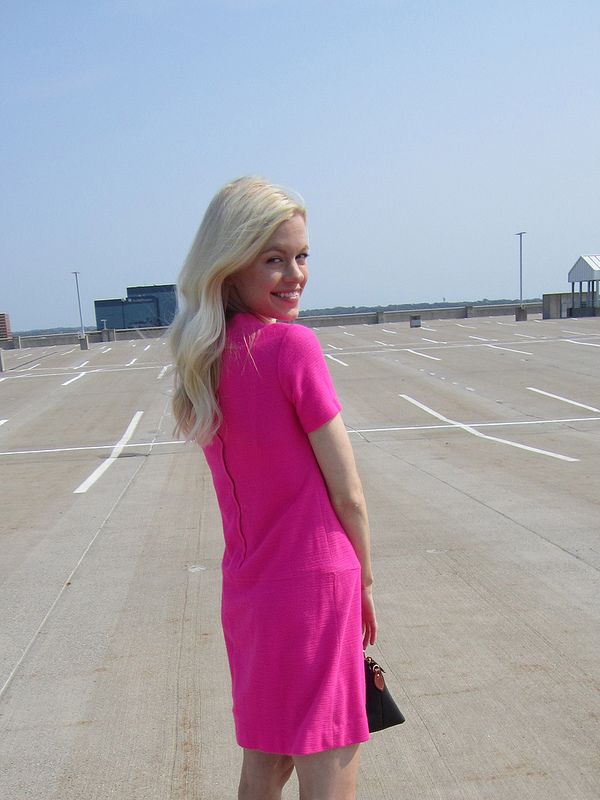 Dress: Vintage | Necklace: J.Crew | Bag: Dooney & Bourke | Shoes: Laura Ashley
I admit this post is a little photo happy. But that's because this is probably my favorite dress ever. Yesterday was my 26th birthday and I was feeling a little blue about it. I've never minded getting one year older each birthday, but 26 was the first year that seemed to me like, geez Lil, you're getting OLD. I know in the scheme of things that's still quite young. But lets face it. It's not THAT young. It's not sweet sixteen. You know what I mean?
Anyway. I got over it pretty quickly. Part one of getting over it was my sweet Dusty making me breakfast and giving me the sweetest card of my life, literally making me cry. Oh my gosh do I love that man. Part two was getting dressed and deciding that this was the perfect day to wear this amazing hot pink vintage dress for the first time. 
I bought it this summer at a little antique shop along with one other dress. (Which I think is going to be amazing as well, but it needs a major hemming alteration.) I saw the bright pink color, the short sleeves, the dropped waist, the single pleat, the mod styling, and I knew it had to be mine. I tried it on in the tiny shop bathroom and actually stood on the toilet to look in the little mirror above the sink to check if it fit. I figured it was close enough and took it up to the register. The lady told me it came from this really cool mid-century mod house that had tons of awesome sixties dresses like this. How cool, right?
I think you can tell from these photos that I felt like a million bucks in it. Exactly how you want to feel on your birthday. Dusty and I did a little shopping at Mall of America and I got so many compliments on it. At J.Crew the workers were chatting with me about the color of it, and I got such a kick out of replying, "It's actually vintage!" when they asked where I got it. I've always wanted to say that! (I think we've already established here that I'm pretty nerdy.)
So it was a really nice birthday. My whole family came over later for dinner, including my twin brother who I obviously (happily) share my birthday with. We had amazing food,  French macarons, lots of laughs at funny baby Carolyn, and a neighborhood walk to end the night. If day one of my 26th year was any indication, I'm in for a great year.