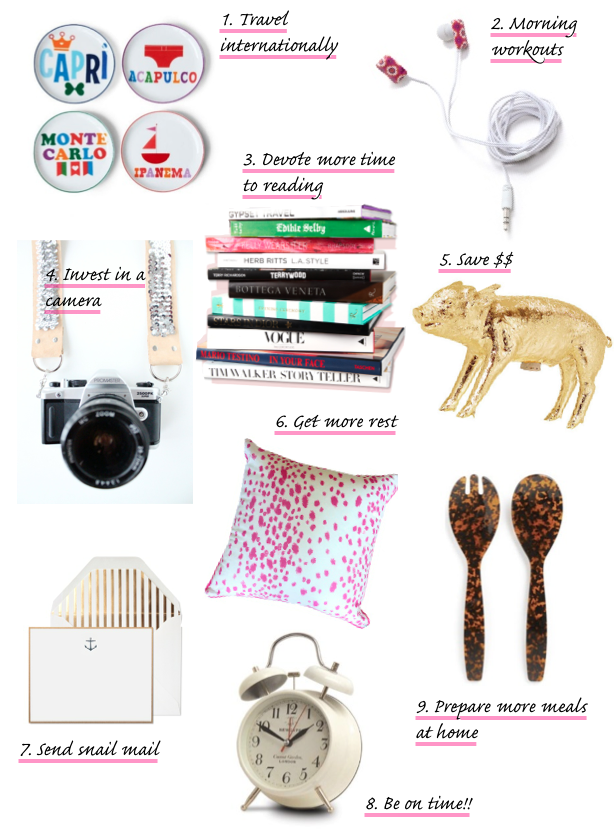 Happy New Year, blog babes!  I hope you all had a wonderful holiday season spent with family and friends.  I have been MIA throughout the holidays, spending the majority of my time in Carolina with the latter part spent back in the District for the New Year Eve festivities.  It was an amazing break, but needless to say, I was ready to get back to my normal routine.

New Years' resolutions are typically a mere afterthought for me.  Year after year, I vow to workout four nights per week and eat healthy, but let's be honest here -- that lasts maybe a full week.  Hence this year, I decided to alter it up a bit.

1.) Jonathan Adler Jet Set Coasters - $48.00
2.) Jonathan Adler Retro Floral Earbuds - $20.00
3.) Variety of Coffee Table Books
4.) Sequin Camera Strap -$130.00
5.) Harry Allen Gold Piggy Bank - $200.00
6.) Pink Flecked Pillow Cover - $38.00
7.) Sugar Paper Navy Anchor Noteset - $24.00
8.) Convent Alarm Clock - $38.00
9.) Sabre Tortoise Salad Servers - $72.00

What are your 2013 resolutions?  Ready, set, go.