My husband and I decided we wanted to end the year with a BANG! so Dec 16-22 we were on a fabulous cruise to the Caribbean(Yes we survived the "end of the world" at sea) Our stops were Grand Caymen, Caymen Islands, Ocho Rios, Jamaica and Labadee, Haiti(An Island that is owned by Royal Caribbean International)


My husband was amazing this was an anniversary gift to me and the fist night we boarded the cruise he had a anniversary cake delivered to our stateroom.

Before
We didn't have a knife and hey we were on vacation so you throw all rules out the window and take a relaxed view at things :) by the time we were done with this cake it looked like this.
After(it was yummy)
The cruise was 6 fun filled days and the adventures that we had will last us a life time, between meeting RAD DAN ( A CRAZY man on the boat who we thought had been locked into boat jail because we didn't see him for three full days), My husband getting hit on by a 90 yr old women (who we named Delores) and sheshimmied over to him in the elevator using her walker so we of course had to create a dance and call it the Delores

Kevin doing the "Delores" in Ocho Rios, Jamaica
The breathtaking views of Jamaica and our crazy driver Cool Johnny who drove us all around and Labadee the view from the cabana that we rented was just BREATHTAKING and looked like it was unreal. if you are looking for a vacation to take I highly recommend a cruise its so worth it. You can eat at any time of the day they have amazing food. great service and you can see the beauty and indulge yourself in the many cultures that you meet not only on the boat(Royal Caribbean has workers from over 90 countries) but also speaking with all of the people from the areas you visit. I am def ready for my next cruise! who's coming with me?
You can't go to Jamaica and not drink a red stripe
Our Crazy Cab driver "Cool" Johnny
The ladies for formal night
Formal Night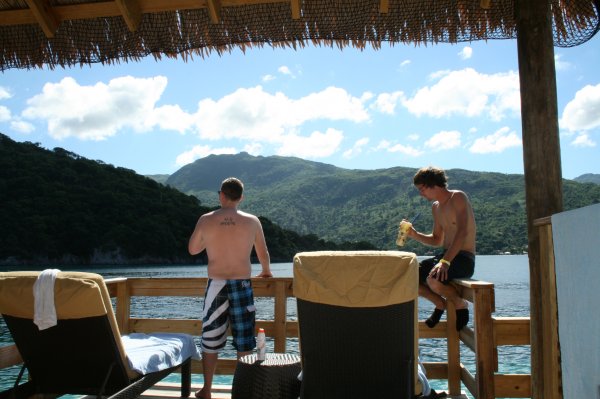 View from our Cabana in Labadee, Haiti