Is this week dragging by for you? It is for me! But we're one day closer to the weekend and one day closer until I get my roots done. It's pretty bad. It's evil, I say! Speaking of evil, this tutorial was originally slated for Halloween! Whoops. However, given recent silly events, it's kind of an appropriate tongue-in-cheek tutorial. And the colors are kind of appropriate for the holidays. Kind of?! Anyway, I think just about every culture has some sort of Evil Eye representation. Traditionally worn as a charm, the Evil Eye sends bad luck to those evil/envious or it offers protection from the Evil Eye (depending on the culture). The original hater-blocker! Ooh, I can't believe I just typed that! If you don't take life (or nail tutorials) too seriously, try this out! While I did two nails here, feel free to paint as many as you'd like! 
I N G R E D I E N T S
Dotting tool
Navy, white, light blue, black polishes
base/top coat
S T E P S
Begin with a base coat. Allow to dry.
Paint one coat of navy polish. 
Using a dotting tool (purchased at beauty supply store, but I used the end of a shadow brush), 
place a large white dot on the center of the nail.
Next, place a smaller light blue dot in the center of the white.
Finish with a small black dot.
Paint a top coat. 
T I P S
Don't worry if your "eye" isn't a perfect circle! Some evil eyes are more tear-shaped.
Be careful when adding your dot--the temptation is to make the dot thick. This will take forever to dry and is more likely to cause mistakes.
I tried this with a white background with the more traditional navy circle design, but didn't like it as much, but it might work better for you. Try it!
If you're really serious, paint the evil eye on the middle finger, he he.
Let each coat dry thoroughly before painting the next one.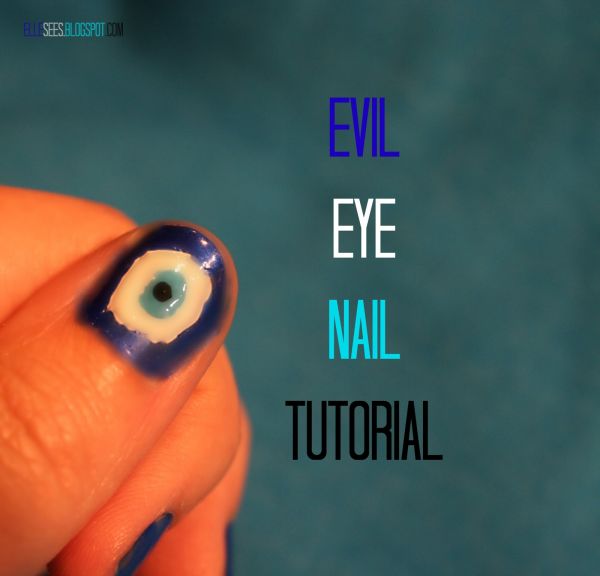 Let me know if you try it--I'd love to see pics.
How do you handle the "evil eyes" in your life?
PS: Need a gift for someone? Or yourself? You were REALLY good this year.