Looking for ideas on what to wear on all the upcoming holiday parties? Here's some tips:
Don't just think colour theme, also think textures. There are a lot of fun ways to play up your look. For this look we've gone with black and silver, how sparkly you want to get is up to you! Since the jewellery chosen has some extra shine, I wanted to make sure that the top wasn't competing with the accessories. I was still able to keep the top shiny, but the texture of the silver lines worked in perfect unison with the accessories. One of my favourite things about this look is the texture on the purse that matched with the shoes. Because it was all black it didn't make the outfit too crazy - but it gave it that extra sense of style.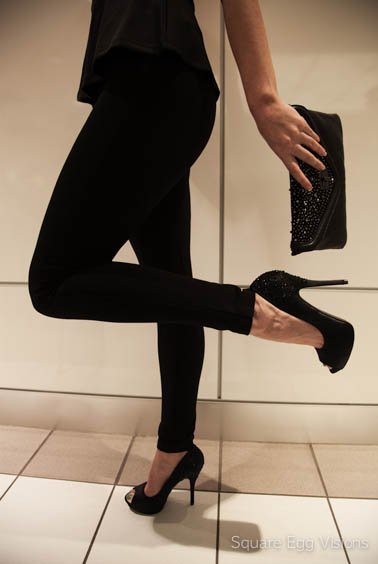 When it comes to make up, you'll want to remember this simple rule. If you go heavier on the eye makeup, make sure you keep your lips neutral. This goes the same, but opposite, for if you wanted to have a colourful bold lip; make sure you keep your eye makeup simple (neutral eye shadow shades or a simple black cat-eye using eye liner).
What Dianne is wearing:
Top from Sirens
Pants, bracelet, and necklace from The Bay
Shoes and purse from Aldo
Earrings are stylists own, similar styles can be found anywhere accessories are sold at Sevenoaks Shopping Centre
Makeup and Hair by Nixon Padios of Chatters (Sevenoaks Shopping Centre, Abbotsford BC)
Styling and photo by Cynthia Benedict of Square Egg Visions