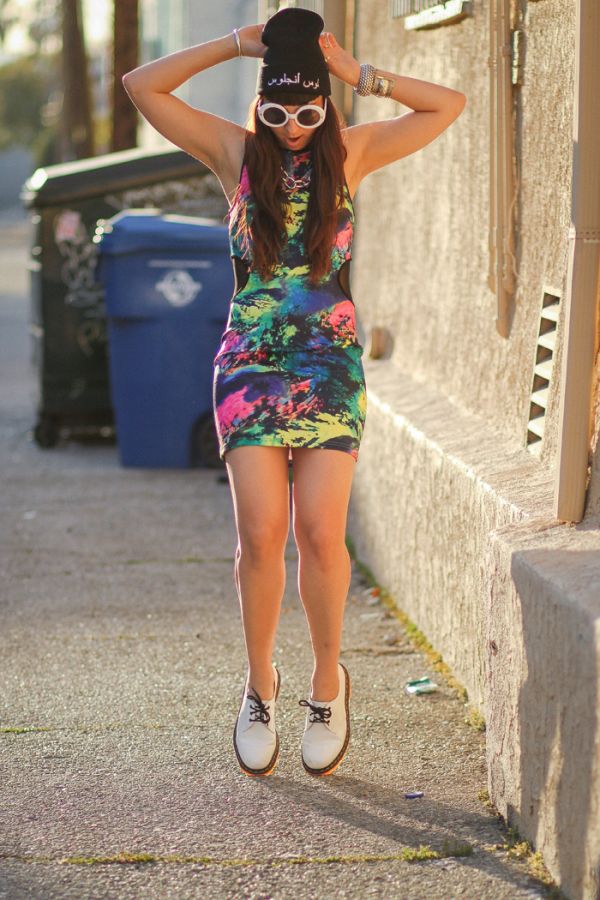 (Gifted Sway Chic dress, gifted Quay Eye Wear sunnies, gifted Style Queen necklace,  Penelope's Vintage Los Angeles beanie, Dr. Martens low top patent shoes)
It's warming up in LA again, which means it will probably never cool down ever again until next January. I'm ok with this change (which I normally am not) because A, it feels really nice being showered by the suns rays and B, I get to wear some fun stuff I've acquired recently. One of them being this AMAZING dress from Sway Chic. They approached me and asked me to pick out something that I would like, at first it took a couple of tries because everything kept selling out (which is great) but I honestly believe it was fate because in the end, I wouldn't want anything else but this dress. It's the perfect cut, fit, print and style and I plan on wearing it pretty much all Summer long. I decided to encourage the eccentricness of the dress and add these fun Quay Eye Wear glasses that Bollare so generously sent me home with and of course, why not add a beanie? I thought this dress without a doubt called for heels but when I put these Docs on I liked how it toned down the dress and made it a look I could wear every day.
The post Here Comes the Sun appeared first on The Penelope Times.