Last year, I finished my Master's Degree through an online program.
It was hell.
I kind of gave up on how I looked.
Here is a post I wrote back then on The Rules of Grad Student Chic.
Enjoy!
Rule #1
To be grad student chic, one must own a variety ofover-sizedJ. Crew tops that match nothing else in your closet except leggings.
Also, make sure to take pictures of yourself from so close that your forehead looks as gigantic as possible.
Rule #2
Paris Hilton isn'ttheonly fashionable girl who uses a dog as an accessory. The right dog adds chicness to any grad student outfit.
Rule #3
Match your undergarments (tanks, bra-lets, whatever they may be) not to the rest of youroutfits, but to random pieces of art on the wall.
Rule #4
Don't, under anycircumstances, do your hair. Messy, poofy, and preferably wet hair is the essence of grad student chic.
Added bonus to this look, wearing a shirt that was purchased at a now bankrupt department store (*cough* Mervyn's *cough*) over four years ago is grad student vintage, rare, but doable.
Rule #5
Try to wear at least onepieceof clothing in each outfit that is a little obnoxious. For example, the shirt below is covered in about 2 feet of crinkly extra material that looks likeintestines. Very obnoxious, very grad student chic.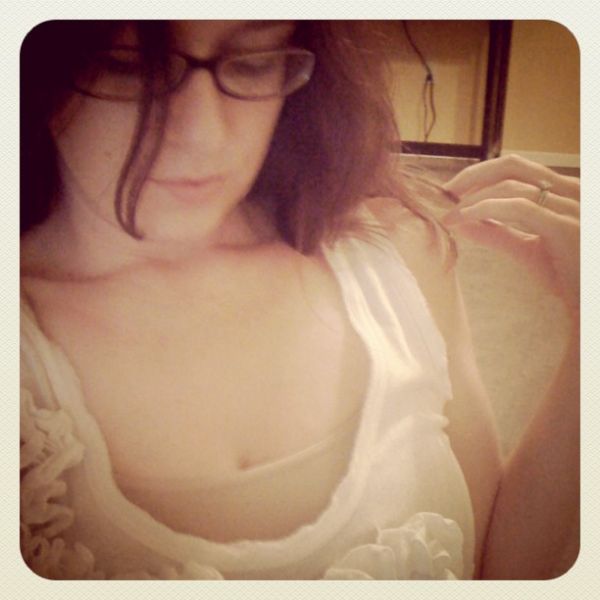 Rule #6
Don't limit yourself. Feel free to try new things. Worn the same two pairs of black Target leggings four days in a row? It's time to switch it up and dig out that elusive pair of GREY Target leggings!
Rule #7
When being grad student chic, at least onepieceof clothing in every outfit must be socially unacceptable. For instance, perfectly normal jean shorts must be paired with a pajama top or it just wouldn't be chic.
Also, taking obnoxious pictures of yourself jumping up and down in your bedroom is always acceptable and always chic.