Have you guys checked out GBO Fashion Blog? If you haven't, you need to now because you have been missing out on the beautiful, amazing Shannon Willardson.  Today, she is featuring me as her Style Crush, and I must admit the feelings are totally reciprocal.
How cute is she!  I love her style, but her personality is just unbeatable.  I mean, who is funny enough to post these hilarious out-take pictures on the internet?
So yeah, if you like pretty clothes on hot zumba instructors that have a great sense of humor, you will love GBO fashion.
Now, here's my outfit: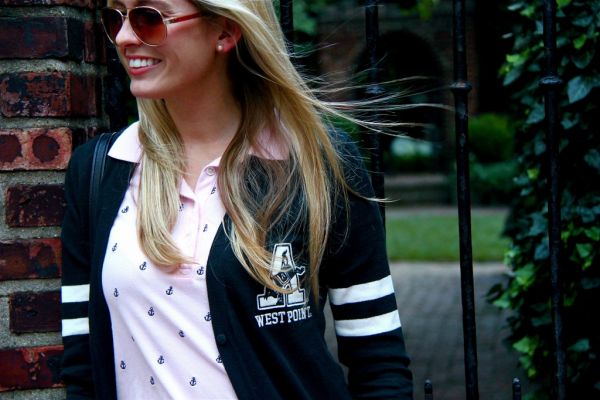 sweater: West Point Academy gift shop (love this one and this one) / shirt: J. Crew (similar) / pants: Ann Taylor LOFT (similar) / shoes: T.J. Maxx (or here) / purse: Kate Spade / sunglasses: Cole Haan / belt: H&M
Okay, so this outfit is all about the sweater.  I picked up this beauty at West Point Academy this summer when I visited with Grandpa (or General) Jordan, who graduated in 1946. I fell in love with it instantly.  I decided to go full 'prep school' and style it with this adorable anchor polo and some classic oxfords.  Man I love fall.  For those of you who are starting school again, have fun!
Thanks for reading!!
xoxo Corbynn
The post GBO Style Crush appeared first on Sisters in the City.