So we're kicking off award season and what better than to start with the "knee-slapping" Golden Globes. In her 70th year E! News reported that our "funny-girl" presenters showed no signs of backing off pulling punches on star-studded guest such as Anne Hathaway, Quentin Tarantino and James Cameron. The biggest surprise may have been Mr. Ex- President #42 himself, Bill Clinton. Looks like Spielberg called in a favor to present Lincoln. I was pretty much thinking he was just as lost in this crowd as Clint Eastwood at the RNC – was anyone else waiting for him to talk to an empty chair? But the night wasn't without it's fair share of flips and flops of fashion as well. As the winding red carpet ushered in some of the most gorgeous looks others brought phantom legs, a post break-up purple hue, grandma's tablecloth, ugly sweetheart strapless and some serious slicked back wavy messes. But nonetheless I found my favorite leading ladies, and a few with their leading men!
Favorite of the night was absolutely my style muse = Claire Danes! I am basically in love with her classic look. The gold accents, all gold, and pinks and reds were highlights across the carpet – pretty sure that was the Golden Globes reminding me to make my annual "get out of town for Valentines Day/Singles Awareness day plans." Dutifully noted!
I was SO IMPRESSED with young Hollywood and several of  the new hot mama's last night. They were all looking classic/young/playful – Nicole Richie looked like a young Lauren Hutton and Hayden P. channeled her inner child after getting hot and heavy on the Nashville set last week!
There's the good but my gawd-y there was the bad! Amy Adams – stop with the hair gel! T-swift why are you even here? Lucy Liu – it's so unfortunate that your dress was the product of Carolina Herrera's macular degeneration, and Halle put the leg away – you aren't Angelina, you never will be.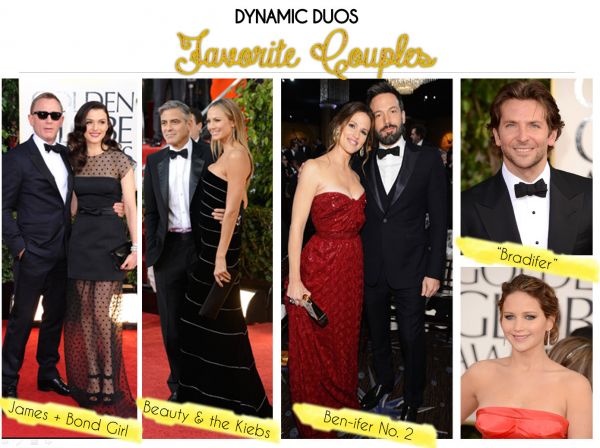 So first – I was in love with James Bond and I am so happy "Beauty and the Kiebs" are still together! But nothing compares to the overwhelming love between "Ben-ifer" No. 2 and the look of sheer "oh-sh*t-ness on J-Lo's face when he won for Best Direction. Priceless!
Then there is the overwhelming consensus from the public that Bradley Cooper and Jennifer Lawrence need to just make it "combo-name" official! BRAD-IFER. This is one 16 year age difference that I wouldn't mind AT ALL! …and he speaks french Ooo la la!