Fig and Brie.  A match made in heaven.
I apologize in advance, this isn't actually a recipe.  It's more like... a list of ingredients and an order of assembly.  That being said, the outcome is delicious and perfect for any party!
Here's how you make it!
Ingredients
Baguette
Fig Jam
Sliced Almonds
Brie
Cut the baguette into slices.  Drizzle with a little olive oil and pop them in the oven.  I put them in a 250 degree oven until they are toasted.  They do not need to darken or get too crisp, so don't worry about that.  You just want a nice crunch.
Get out the fig jam.  Mmmm.
Spread over each piece of bread.
Top with almonds.
Then top with slices of brie and pop them back in the oven!
I cut off the edges of the brie, but you can keep them on, if you like.
See?! I told you this isn't even a recipe.  So easy!
And look at the outcome...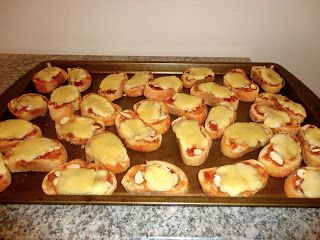 ...sweet and melty goodness.
Try one before the guests come!!
If you are bringing these to a party, put them in a deep pan so none of them fall off when you are travelling.  Ask the host if you can pop them in the oven for a few quick minutes to heat them back up.
Yummmmmy!!
--
xoxo
-->