Farah Angsana Interview – September 10, 2012 - (English version)

While I was at New York Fashion Week, I had the fantastic opportunity to interview Farah Angsanabackstage,  just prior to her runway show Spring 2013 collection. I feel so lucky to have met her in person, to go backstage and watch all the preparations and work going on behind the scenes. It was an unforgettable moment for me. I was so nervous and excited at the same time, but when the interview started things flowed naturally and we had a great and fun conversation. This was a very special moment for me, not only because it was my first interview with a Fashion designer, but also because it made me so proud to be Brazilian. I hope you like it. Please see the interview below.

Ana In Style: I know that you travel a lot and that you get inspiration from your travels. What places did you go this time, which inspired your new collection?
Farah: I went to Brazil.

Ana In Style: That's great; I am from Brazil!
Farah: From where?

Ana In Style: From Sao Paulo.
Farah: I love Sao Paulo.

Ana In Style: Have you been to Rio De Janeiro?
Farah: I went to Rio De Janeiro, but I didn't have a chance to spend much time
there.

Ana In Style: Did you have a chance to try a Caipirinha?
Farah: I loooove Caipirinha! But it's a bit dangerous. It comes on slowly, but is very
powerful, just like Brazilian men (laughs).

Ana In Style: So Brazil inspired you for this collection. What color scheme did you
choose for your collection?
Farah: Brazilian culture inspired me and the main theme for this collection is based on
love. It's about a woman who has been caught up in love with a Brazilian man. She went
across Brazil and she was inspired by the colorful culture of the country and the adversity
around her and then she got trapped in the Amazon and saw the beauty and wonders of
the Amazon.

Ana In Style: That's very nice; that's why I am seeing all the greens, yellows, and oranges.
It's really reflective of Brazil. I can really see that you captured the beauty of the Amazon
in your designs.
Farah: Yes, you can see the colors on the embroideries and the details.

Ana In Style: How do you want a woman to feel when she is wearing your clothes?
Farah: I want a woman to feel absolutely glorious in my clothes; feeling good about
themselves. Being a woman is not just about putting on beautiful clothes; but you must
play the role in the clothes, that is the most important thing.

Ana In Style: What do you think about the impact of Social Media and Blogging on the
Fashion Industry?
Farah: Bloggers and Social Media have such a big impact on fashion and branding these
days. Magazines are good as well, but Social Media is huge right now.

Ana In Style: Five quick questions.

Ana In Style: Favorite spot?
Farah: My bedroom. My kitchen. My living room. My office.

Ana In Style: Favorite color?
Farah: Navy blue, yellow, green, and red the color of love.

Ana In Style: High heels or flats?
Farah: High heels of course.

Ana In Style: What book is on your nightstand right now?
Farah: The Magic (The Secret), by Rhonda Byrne.

Ana In Style: Favorite phrase?
Farah: Live life to the fullest.

Ana In Style: Thank you so much, it was great to meet you.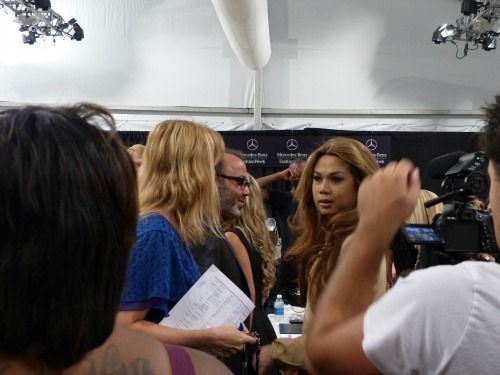 Thanks for reading.