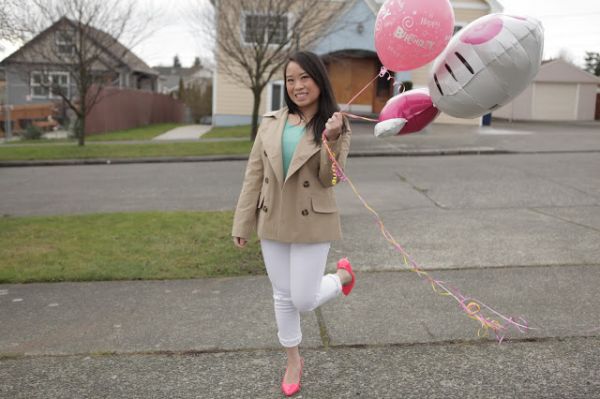 Top: Forever 21(Similar)
Coat: Forever 21(Similar)
Bottom: Old Navy (Similar)
Shoes: H&M (Similar)
Necklace: Tiffany&Co (Here in Teal)&(Here in Pink)
Happy Birthday... to Me!!!!
As for my title, there's nothingdirty about turning thirty. But I seriously never thought this day would come.. I remember watching one of my favorite movies,13 Going on 30 and thought to myself, wow.. that won't be me for avery long time and why would anyone wish to be 30?? And it also reminds me of theFriends episode that I've watched dozen of timeswhen they all turned 30. Hilarious. :)I guess now that I'm here, I can say there's nothing bad about being 30. It's just another number added and it doesn't change anything. I am still the same person I am today! I still love my Hello Kitty! ;) I am glad though to reflect back on the things I'veaccomplished back in my twenties.
1. Married my best friend - I would say this was a big one! Took a trip to Hawaii (Oahu) and Hubs took me by surprise and got down on one knee in the water and proposed right on Lanikai beach. It was perfect! A year and half later, we got married on a hot summer day surrounded by our loved ones.
2. Got our furbaby, Kobi - yet we always get the question of when we will have our first baby.. we always say Kobi has been our furbaby and we spoil him rotten. ;)
3. Bought my first brand new car - this was a big deal too.. esp when you're young and saving money is a hard thing to do. But if you put your mind into it, you can save up for anything!
4. Became part of the corporate world. After graduating, it's known to go straight into having a real full-time job.. duh! It's what you do. haha..
5. Most recent was Hubs and I buying our first house. This ishuge for us! We've been looking for a year and half and finally found our home! It's currently still being built so if you follow me on Instagram, I sometimes post updates about it. I will put up blog posts once it's done and I start decorating. :)
I can't wait to see what's in store for me in the thirties!!
Also, I would love to wish a "Happy Birthday!!" to my fellow bloggers -Kajal and Morgan. I never knew anyone else with the same birthday as me and now these two lovely ladies are celebrating their special day today too! :)
Don't forget to enter into my giveaway (here)!! It's a gift from me to you!
&
New giveaway from T+J Designs!
via T+J Designs Blog&T+J Designs website
Visit their blog to enter! And you can share this editorial on your Facebook, Twitter, & Instagram for extra entries! Good luck!! :)
linked up with yolo mondays