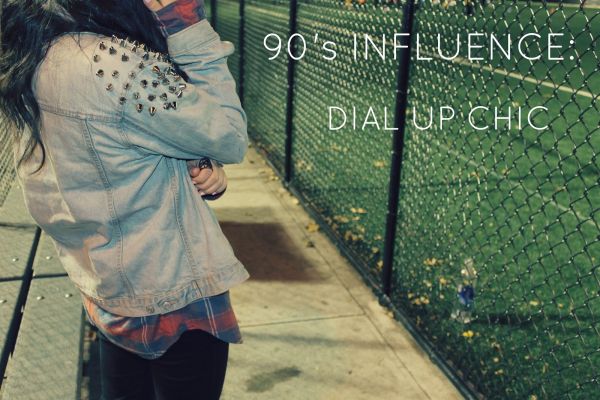 Dial-Up-Chic is literally EVERYWHERE (hi, 3.1 Phillip Lim S/S 13, House of Holland S/S 13) this season, and while I've been throwing around the term "Dial Up Chic" around for a while now, I figured I'd give a proper introduction to the subject sooner rather than later. 



Dial-Up-Chic: A sartorial aesthetic pertaining to the 1990's. 

Girly layers have given way to boyish silhouettes, acid wash denim, plaid, creepers, and beanies, and I'm completely LOVING it, tbhondra. Personally I've found that Dial-Up-Chic has snuck into my life pretty organically, (a beanie here, a camo jacket there) and I think it's great. 



What do you think? Is the Dial Up Chic trend very America Online Keyword: HOT or does it just make you a sad furby? Did you ~effing~ love those 90's/early 2000's references or what? Were those tildes reminiscent of the late 90's/early 2000's/nearly vintage AIM buddy profiles? Were you really into them anyways? Will Netscape ever, truly "happen"? Are you not getting these references? Am I bastardizing an entire decade? Probably. Do you hate me? Do you love me? Would you low-key let me know if I was your only squirrel in the world? 

Also, isn't it weird that the 90's were 20 years ago, and not 10? I always feel like we think of the 90's as only 10 years ago. 
Beanie: Urban Outfitters, Studded Jacket: DIY/Goodwill, Flannel: J. Crew, Platform Sneakers: Superga, High Waist Jeans: American Apparel
photos: Zack Ryan