A few months ago, I read on
Keiko Lynn
's blog that she was working with Cotton on to scour the Northeast for 8 finalists that get to win a chance to attend the 24 Hour Runway show in South Beach. After seeing Keiko Lynn's post, I submitted one of my
favourite outfits from 2012
and hoped that I would get a chance to represent the Northwest. A few weeks later,
Linda
tweeted me to say that
Lisa of Urban Weeds
, who is the panelist for the Northwest region, had spotted my entry and blogged about it. I was
soooo
flattered. (Have you seen Lisa's blog? Gosh, she picks out the best street style!)
Fast forward to a few weeks after seeing Lisa's post and I found out that I would be a finalist to represent the Northwest region. SHUT. THE. FRONT. DOOR!!! I was jumping up and down and being a huge dork from the excitement! I would love the chance to go to South Beach to meet the other regional finalists and all the blogger panelists… especially Keiko Lynn! I've been such a huge fan of her line, Postlapsaria, and have been a follower of hers since the LiveJournal days.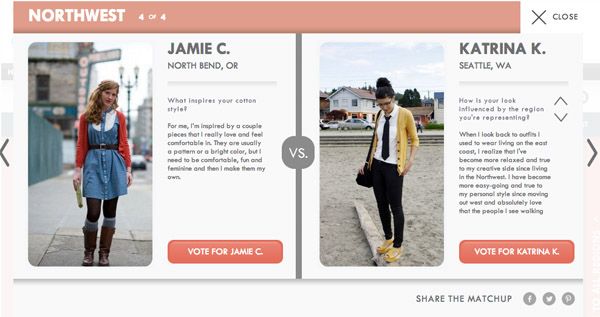 If you have a second, I would love, Love,
LOVE
your vote! You can
vote here
and check out the other finalists too!