The inspiration for this project started where most do: the accessory aisle at Target. I was searching for some great finds and stumbled upon some really cool belts with color-blocked, thread-wrapped chunks. I figured these would be super easy to make and I found a rack of 75% belts to work with. I found a skinny, mustard belt that would be perfect for this.
I did a little research to see if anyone else had done this DIY before and I found a super cute blogger on Studs and Pearls who did the same thing. Turns out, Target knocked off Anthropologie's design, but it's the same concept. I was able to recreate the belt for only $5.
Here is what you'll need:
-belt of your choice (Merona from Target)
-at least 3 colors of embroidery thread (2 skeins each)
-fabric glue
-scissors
________________________________________________________________________
First, you need to decide whether you want the thread to wrap the entire length of the belt, or if you prefer the separated blocks that Target did. I went with the blocks, so I could still see the mustard part of the belt. Pick your starting point (mine was a few inches from the buckle) and tie the thread in a double knot, with the knot being on the back.
Now, tightly wrap the thread around the belt, making sure to push each row next to the previous to ensure no gapping. When starting each new block, make sure you wrap the thread around the tail end of the knot, tying it down. When your block is the size you want it, tie it off by looping your thread under the previous row. Apply a little fabric glue where it's knotted off, then cut the excess thread leaving about 1/2". Now begin your next color with the same idea. Tuck the tail of your first color into your second when wrapping it around. You will continue this process until you decide your belt is done.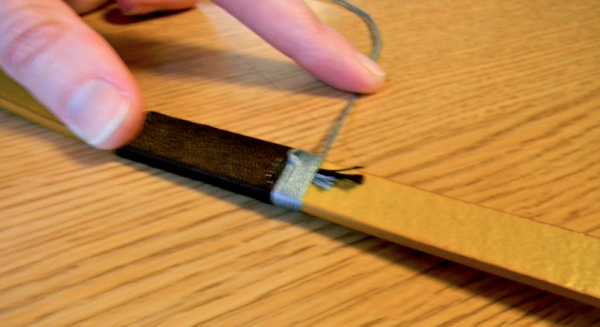 Above is what the back of your belt should look like when it's completed. There will be little knots between each color, but it won't show on the front. Depending how quickly you wrap the thread and how many blocks you decide to do, this potentially could only take a half an hour. I worked on mine during breaks between class, so it took much longer--but I promise, it is so simple.
I got it done in time for my Trend executive meeting and was able to rock it with some bold colors and lots of layers.
Foster The People Tank, Forever 21 Military Jacket (2010), Francesca's Moroccan Bubble Skirt--Similar via ASOS,Sweater tights--Similar via Chinese Laundry, Liz&Co. Riding Boots--Similar via JCPenney, Target Bib Necklace, Top&Bottom Bracelets (Handmade by my roommate),BCBG wrap bracelet
Happy crafting!
xo,
kaylee.