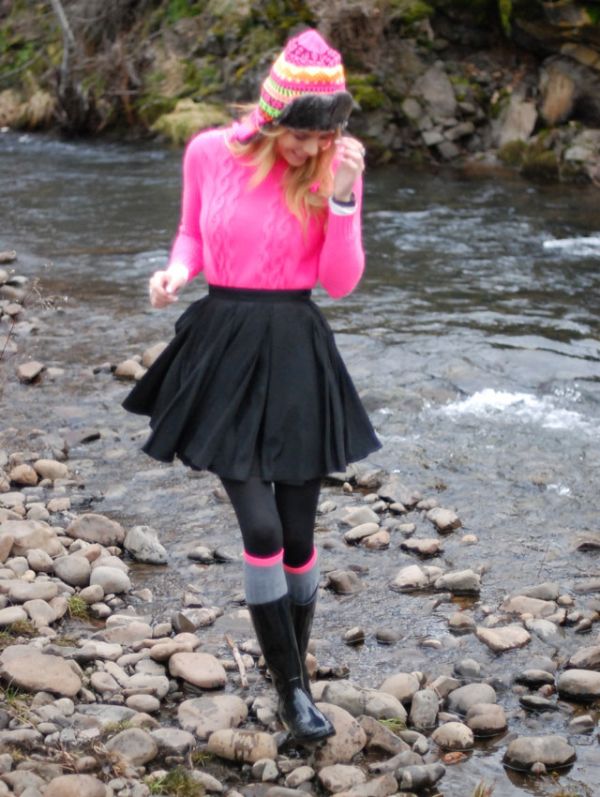 Neon Trapper Hat: Nochilla, Neon Pink Sweater: Forever 21, Skirt: American Apparel -similar,
Grey Oversized Sweater: Express -old, White Undershirt: Abercrombie & Fitch,
Tights: DKNY, Rain Boots: Coach -similar, Socks: Target,
Rings: Unknown, David Yurman, Madewell -gold version, Watch: Fossil
Cold Weather Outfits
It's no surprise that it's absolutely freezing in Washington, so I took layering to a whole new level! An undershirt, and two sweaters, tights and TWO pairs of socks and boots! Yes, it seams like a lot but I think if you play with texture, color and fit it can be super interesting. My dad, brother and I went down to the river on our property and hit a bit of mud, to put it lightly, and walked up and down the riverside, I wish I'd had gloves, but otherwise I stayed toasty warm! I have a couple more looks to share with you from my trip, and some photos from the Tags Shop event last night in West Hollywood. To see some of the pics from last night right away, make sure you follow along on Instagram!
PS. How amazing is this hat?! I got this at a truck stop and about died! I shop everywhere!!
With love from Hollywood,
Kier
HYPE on LOOKBOOK.nu
The post Cold Weather Outfits ~ Winter Neon appeared first on Fashion Addict.