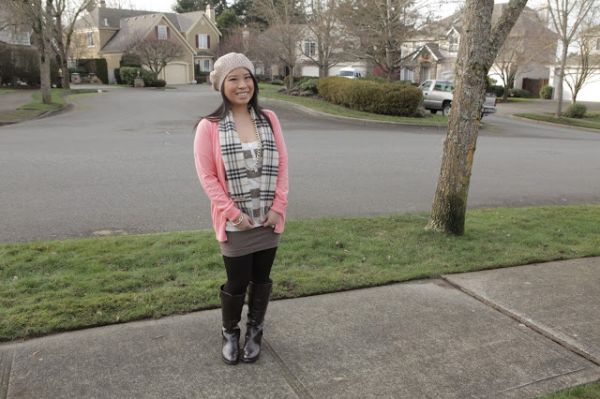 Top: Old Navy (OR this)
Cardigan: Old Navy (Here)
Bottom: H&M (Similar)
Leggings: Nordstrom Rack (Similar)
Boots: Local store (Similar)
Necklace: T+J Designs (Here)
Bracelet: Jewelmint (Here)
Beret: Forever 21(OR this)
Scarf: Burberry (OR this)
Happy Wednesday!
Thank you guys so much for checking out my guest post on The Weekend Diary. I'm glad you guys liked it!
I enjoyed reading everyone's comments and appreciate the support!
So I realized when writing this outfit post, that there were a lot of pieces to my outfit. I think I was just really cold and wanted to layered up! For sure I was nice and comfy though. And I am in LOVE with my fleece-lined leggings! Btw - they're in brown.. not black! They are by far the best thing ever right now especially in this cold Seattle winter. haha... Has anyone else tried them? It is really the best!
Also, I wanted to call my cardigan color 'salmon' at first but then I thought the title would be funny "Chocolate Salmon"? So I went with 'sorbet' instead..kinda sounds better. Everytime I think of the color 'salmon'.. I think of the Friends' episode when Ross left his beloved sweater at his ex-girlfriend's place and kept saying it was salmon but everyone else called it pink. hahaha...Am I the only one who's aFriends fanatic?! I have all ten seasons + finale. ;)
Today I'm linking up with Marionberry Style's Trend of the Month Challenge (Here).
Hope to see you guys link up too so I can see your striped outfits too!
Or you can leave me a link in the comments below and I'll go check it out!
Linked with Random Wed&Pleated Poppy