Hello Lovelies!
Today I thought I would focus on a trend that is everywhere right now – PLAID! It is interesting to see people's reactions to this print. For some it is the nostalgia of school uniforms and for others it reminds them of 80′s grunge. It was all over the fall fashion runways, including 3.1 Philip Lim, Marc Jacobs and Victoria Beckham, and in forms that varied from boxy tops to tartan jackets to chic polished sheaths. Plaid is also available in a seemingly infinite variety of colors and designs, including tartan, houndstooth and checkered, making it a very flexible pattern.
The Spark!
I adore the feminine cut of this blouse. The juxtaposition between the flutter sleeve and the masculine red plaid were a perfect contrast. I decided to give the top an edge by pairing it with a leather skirt, and by adding the requisite studded belt to finish off the punk look. This is my interpretation of "polished punk."
I loved these shoes when Sarah Jessica Parker debuted them in Sex in the City, and felt that they needed an outing from my closet. They are still as fabulous today as they were then – the nice thing about great accessories is that they tend to be timeless.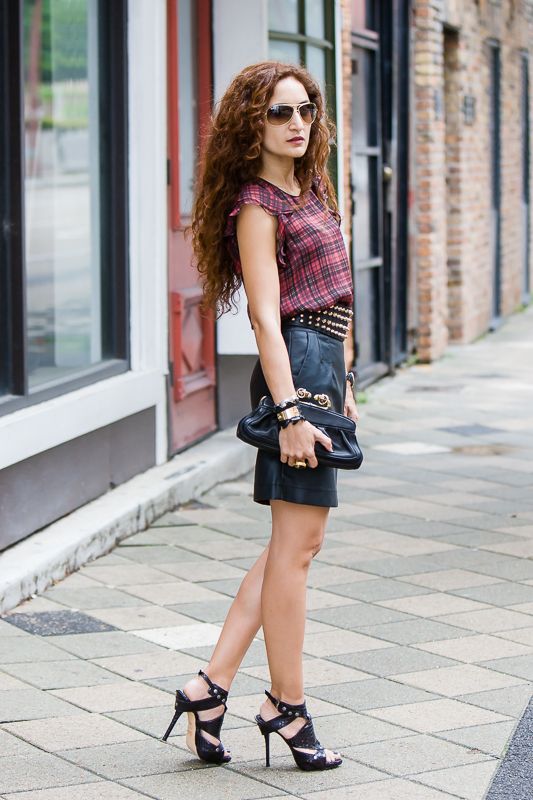 How are you wearing your plaid this season?
I hope you have enjoyed reading as much as I have enjoyed styling and writing!
love,
OUTFIT:
PLAID TOP: Zara (I also love this long sleeve version here); LEATHER SKIRT: similar here (the zippers on this one made me swoon) and here; ACCESSORIES: Zara belt (similar here and here); Dior shoes (I like these here and here); Derek Lam clutch (like this one here); Saint Laurent ring (available in stores); Chanel watch; Cartier bracelets
Photography: Leslie Gaworecki, Goodlight Photography