Happy Friday, friends! As most of you all know, the 2013 Golden Globes aired last Sunday. While there were many highlights, like Anne Hathaway & Jody Foster's speeches, or Django and Christoph Waltz snagging awards, I definitely enjoyed the FASHION and RED CARPETmoments the most! I was tempted to do Polyvore creationsfor almost all of my favorite looks but I stuck with my top two looks; TV host Nancy O'Dell and actress Lucy Lui.
Nancy looked absolutely stunning in her electric blue gown! I loved the way it fit her body and I also liked the fact that she wore her hair up. The drop earrings were simple and just enough for the look as well. For my creation I went with the same color, just a shorter dress. Its something that I can see myself wearing if I were to step out on a red carpet. Now all I have to do is find me a red carpet!

(1) Dress: Purchase,HERE(2) Shoes: Purchase,HERE(3) Clutch: Purchase,HERE(4) Earrings: Similar Pair,HERE(5) Lipstick: Purchase,HERE
Next up is Lucy Lui's floralCarolina Herrera Pre-Fall 2013ball gown. When she was on the red carpet and then stepped on the stage as a presenter, Iwasn'tsold on the look. But once I took a second look, I began falling for the dress. It was a perfect fit for her. As a petite woman, she pulled off this look VERY well. She, like Nancy, went for minimal jewelry which was a huge plus. With a gown this busy, accessories should definitely be minimal.If I were to wear recreate this look for myself or a client, I would go with a shorter more practical version. The Polyvore look below gives off a 1950′s vibe, which I love! It's super girly and flirty.
(1) Dress:Purchase,HERE(2) Heels:Purchase,HERE(3) Heart Studs:Purchase,HERE(4) Purse:Purchase,HERE(5) Sunglasses:Purchase, HERE
So which look is YOUR fave? Are you more glam and saucy like Nancy's recreated look or do you see yourself stepping back in time with the floral girly creation? Let me know! I'll leave you with a few of my other favorite looks of the evening. Enjoy and until next time, be blessed! XO
~Whitney
Salma Hayek in a Gucci Première Gown & Paraiba Tourmaline Cabochon earrings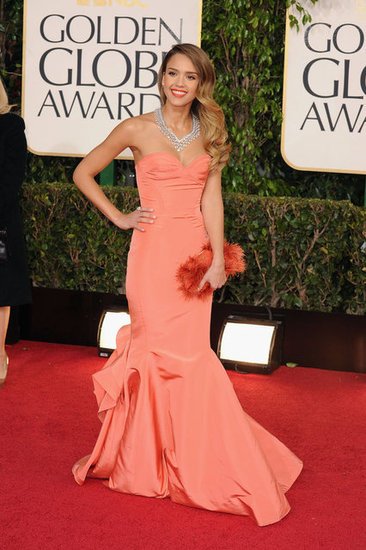 Jessica Alba wearing Oscar de la Renta, Harry Winston jewelry & a Roger Vivier clutch
Tina Fey: L'Wren Scott gown
Amy Poehler: Stella McCartney gown