I was given Butter London's The Full Monty nail polish as a lovely Christmas present from one of my co-workers. I'm wearing it right now as it's the perfect polish for the holidays. It's a metallic gold with fine silver shimmer and combined gives the most gorgeous foiled effect on my nails. Like all Butter London polishes, the rectangular top pops off to reveal a short-handled brush. I don't mind this as I feel like I have more control with a shorter brush.
The first coat applied a bit streaky due to the silver shimmer, but I achieved full and even opacity after two coats. Unfortunately, this polish chips easily and I found myself with minor tip wear after a few days. This aspect doesn't bother me since I'm pretty good at giving myself a less than 10 minute manicure. I would still wear this polish because I think the color is beautiful and appears multi-dimensional in different lighting.
In direct sunlight to show the shimmer.
Outdoors, in direct sunlight.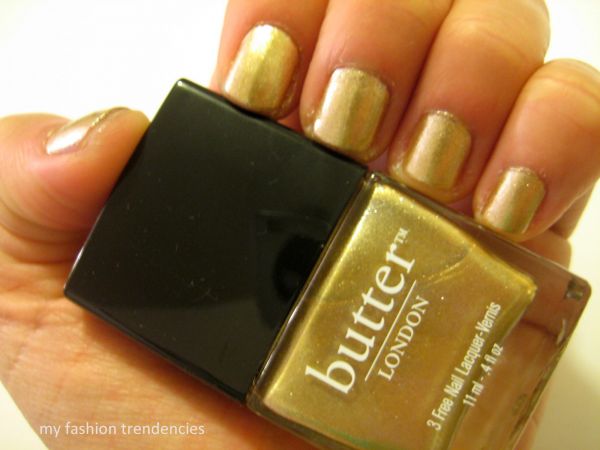 Indoors, artificial light.


Bottom line
: If you love golds and don't mind the high-maintenance of this polish, I say get it. If you don't have time to touch up every few days, I'm sure you can find a similar shimmery gold polish elsewhere.
You can purchase this for $14 at
Nordstrom
,
Sephora
,
Ulta
, and
Dermstore
to name a few.
If you've enjoyed this post, please follow my blog or subscribe. :)